Discover 12 breathtakingly beautiful destinations for tourists in Laos.
Coming to the beautiful country of Laos, you will be captivated by ancient cities, Buddhist buildings and ancient heritage. Explore the wonderful nature with majestic waterfalls, caves, and most of all, the unique cuisine and friendly people here.
Your journey to explore Laos will become more meaningful and complete, when you join Threeland Travel to the most impressive and beautiful tourist destinations in Laos.
1. Vientiane capital
Unlike other countries, Laos' capital Vientiane is not too noisy and bustling. Everything here happens peacefully and slowly. Coming here, visitors will feel a strange peace and friendliness of the people here.
Vientiane capital - Laos tours destination with a long history, outstanding with ancient architectural works, bearing the mark of Theravada Buddhism through exquisitely sculpted Buddha statues and reliefs, with sincerity.
A few suggestions for you about places and architectural works that you should not miss when coming to the beautiful capital of Laos:
Arc de Triomphe - Patuxay Monument

National symbol Pha That Luang

Phra Keo Pagoda is plated with gold and jade

Buddha Statue Garden

Talat Sao Market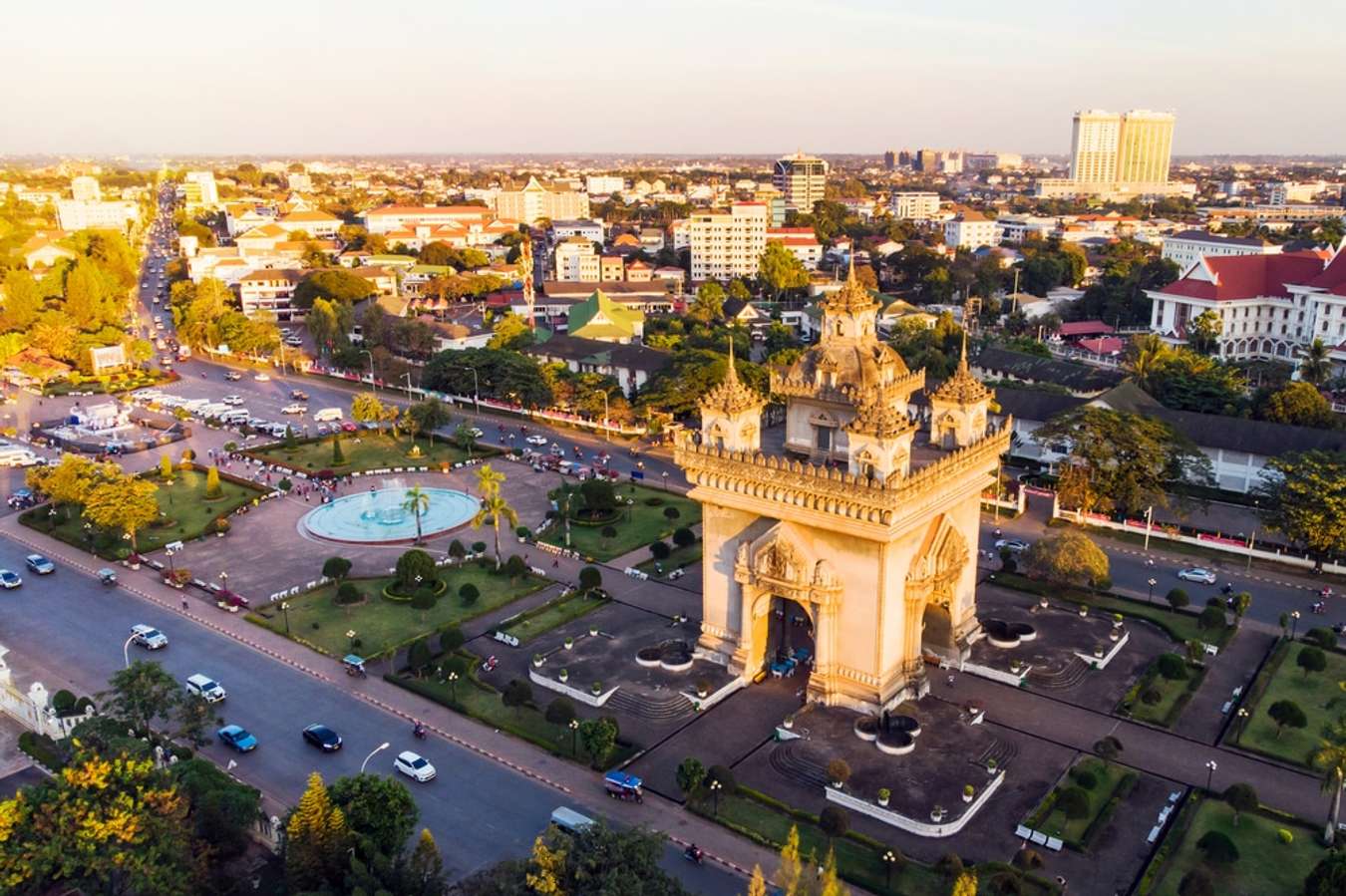 2. Ancient capital Luang Prabang
If Cambodia has Siem Reap, Vietnam has Hue, then in Laos there is the ancient capital of Luang Prabang, located along the peaceful Mekong River, this place possesses ancient architectural works, colored by time associated with ancient Lao life.
In the gentle, beautiful natural setting, the ancient palaces have a profound, mysterious beauty and a history of ups and downs from the ancient times of Laos. Laos check-in locations in the ancient capital of Luang Prabang are ideal for exploring this small land that you should conquer.
Visit the Royal Palace

See the whole city on Mount Phousi

Visit Xieng Thong Pagoda

Watch the monks' alms giving ceremonies

Explore Pak Ou cave and Tad Sae waterfall
3. Vang Vieng town
Vang Vieng town is a famous tourist destination in Laos with its wild, peaceful beauty and gentleness of majestic nature. About 150km from the capital, the town has the green color of mountains and forests, rice fields of a peaceful countryside, fresh climate.
With the terrain position "back against the mountain, face facing the river", coming here you will feel like immersing yourself in the peaceful nature beside the Nam Song river, the green fields running long, blending with the undulating mountains to create a charming scene that hides its wildness, and is so peaceful.
Stopping at Vang Vieng, visitors can choose to rest in grass tents built right on the water, relax with nature, stroll on curved wooden paths and join in the relaxing activities of kayaking, cycling and sightseeing and don't forget to pose for impressive photos in the small town of Vang Vieng.
4. Kuang Si Waterfall
A tourist destination in Laos famous for its grandeur, wildness and charming beauty of the mountains and forests that anyone coming to Laos does not want to miss is the great Kuang Si waterfall. Located 29km south of Luang Prabang city, the tower is surrounded by the majestic Kuang Si forest.
As one of the places "hunted" by young people and nature lovers, this place concentrates many large and small waterfalls, creating a majestic natural picture, but with a poetic, charming.
You will feel lost in a fairyland, enjoy the trip in a relaxing way, watching the flowing stream, hearing the gurgling sound of the stream, blending with nature. Many tourists come here to take impressive photos and soak in the cool blue water.
Read more: Explore Laos - Beautiful waterfalls you should definitely visit
5. Wat Phou
The sacred temple of Wat Phou, a world cultural heritage, is a typical cultural work of Champasak. Running along the banks of the Mekong River, Wat Phou, about 40km from Pakse city, is a stone complex with unique architecture built from the 9th to the 13th century.
Through many ups and downs of history, many areas of the temple are ruined, but you can still admire the impressive sculptures and carvings of the bas-reliefs. You will cross the stone steps to reach the upper temple area, on both sides are Linga-shaped statues and standing round stone pillars.
Wat Phou Temple is an ideal Laos tourist destination for a trip to explore and learn about ancient structures. This place is tinged with mystery and you will feel the mystery and sacredness here.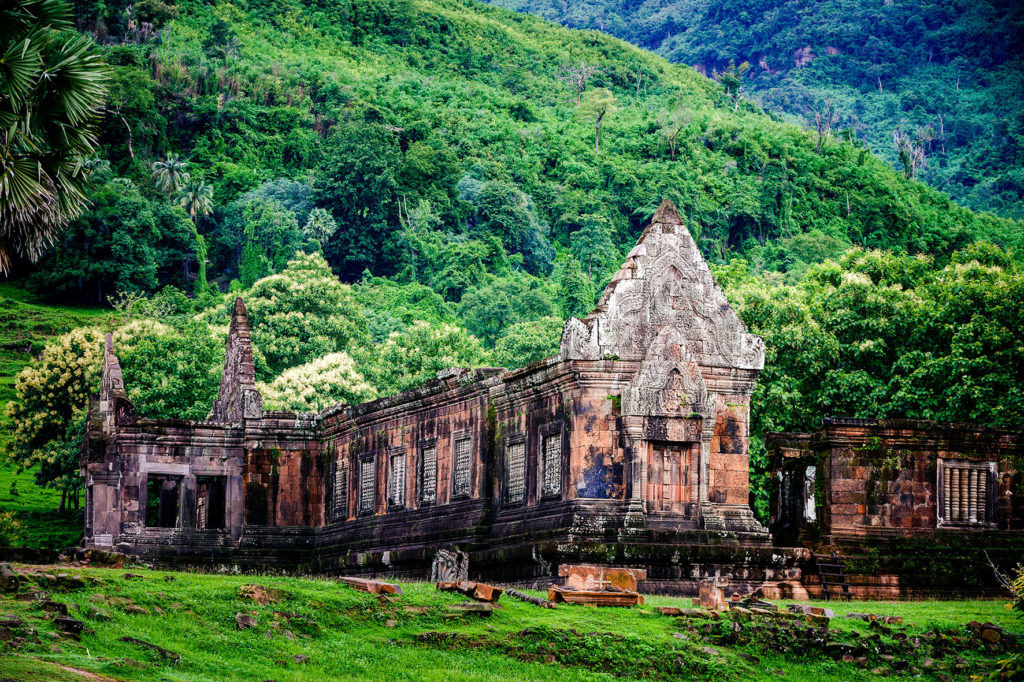 6. Tham Khoun Xe Cave
Tham Khoun Xe is one of the world's largest river caves located in Khammouan province in central Laos. This place has the Xe Bang Fai river flowing throughout. It is a magnificent cave but no less romantic and lyrical with mysteries from nature waiting for you to explore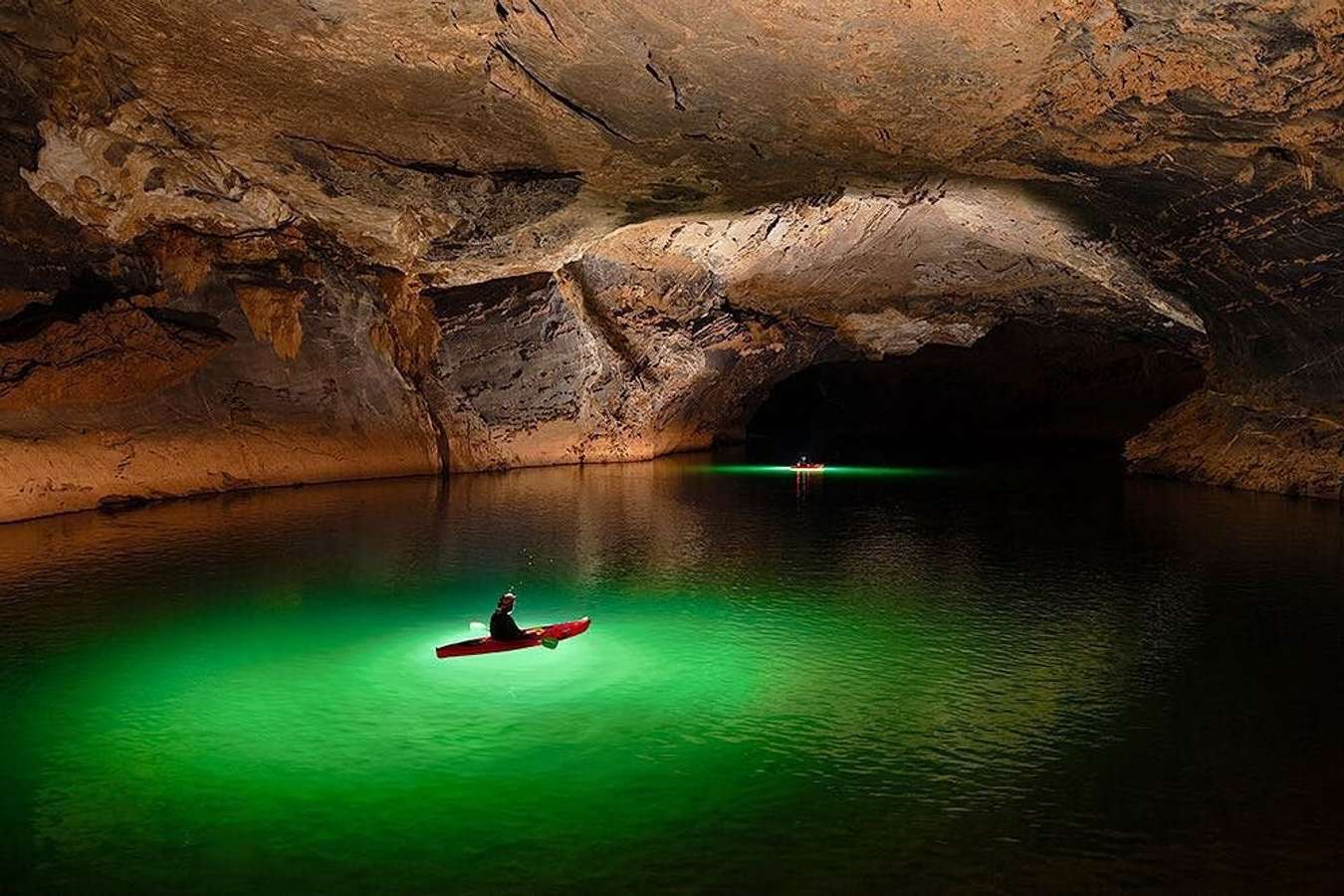 7. Khoun Kong Leng Lake
Another tourist destination in Laos with wild beauty, Khoun Kong Leng Lake is located in the north of Khammouan province, about 30km from Thakhek town. This place has blue and crystal clear jade water.
The lake water flows through the limestone layers surrounding the mountain, in some areas near the viaduct you can enjoy swimming and soaking in the clear blue water. In addition to taking check-in photos, with this romantic scenery, take a relaxing stroll on the trail leading around the forest.
8. Pha That Luang
Located in the capital Vientiane, Pha That Luang is a large Buddhist stupa dating back to the 3rd century. Through many restorations, Pha That Luang has become a relic and a prominent symbol of the country.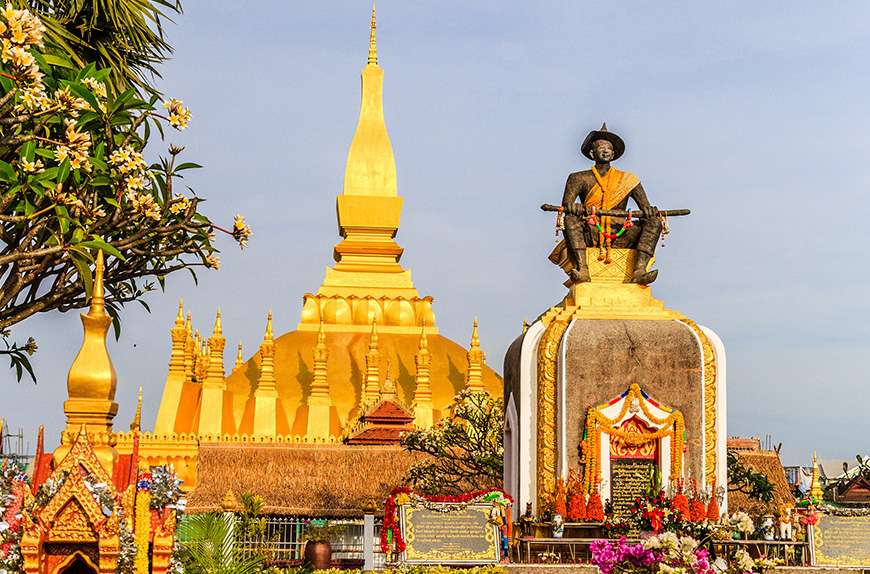 9. Xieng Khouang Highlands
A quite unique place to visit in Laos, this is a famous megalithic archaeological landscape in Laos. Coming here, you will be extremely surprised by thousands of ancient jars scattered across the Xieng Khuang plateau valley.
Dating back 1,500 - 2,000 years, these jars were used to store remains or possibly as food containers of the Mon - Khmer community.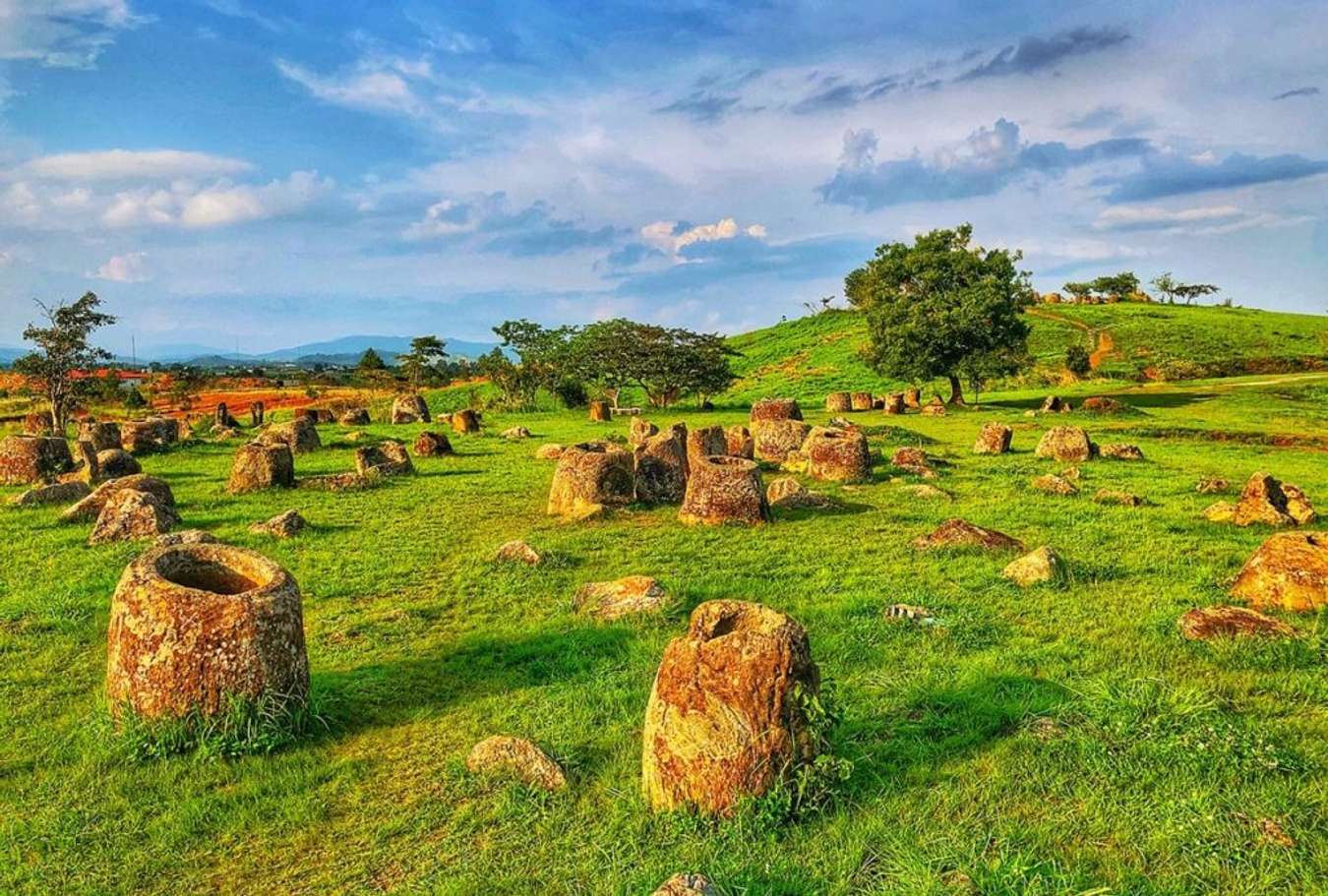 10. Buddha Park
Like the name Buddha Park, this is a quite special Buddhist park located about 25km from the capital, with many mysterious reliefs that Lao people sculpted about Buddhism, paying homage to the special culture. This is an extremely interesting place to visit and explore Buddhism that you should visit.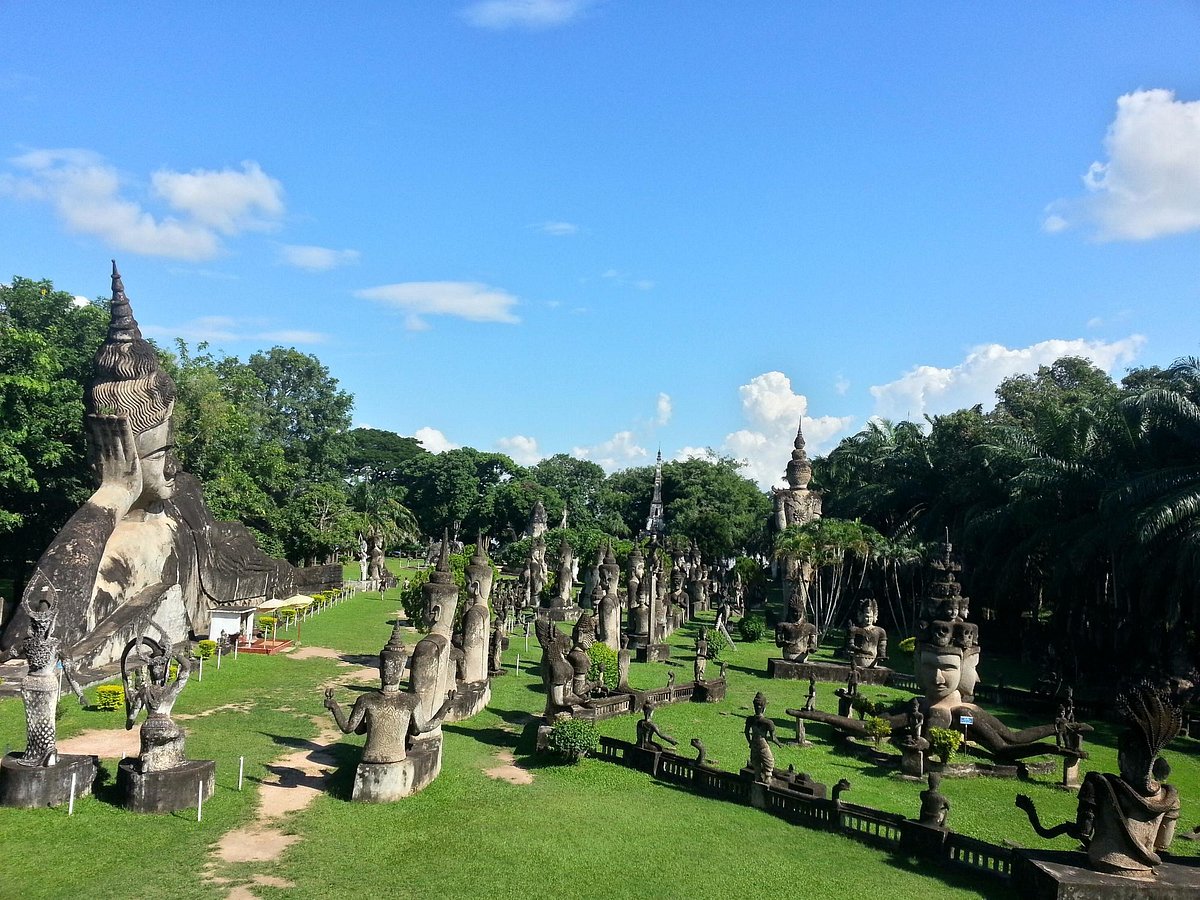 11. Si Phan Don
A country without precious marine resources, but in Laos there is also a place with islands. Si Phan Don is a large archipelago located along the romantic Mekong River. The name of this place means "4000 islands" with the main islands being Don Khong, Don Som, Don Khon and Don Det.
Si Phan Don is located close to the Cambodian border, so this place has a very special cultural interaction, and is one of the places in the Indochina region that attracts many tourists.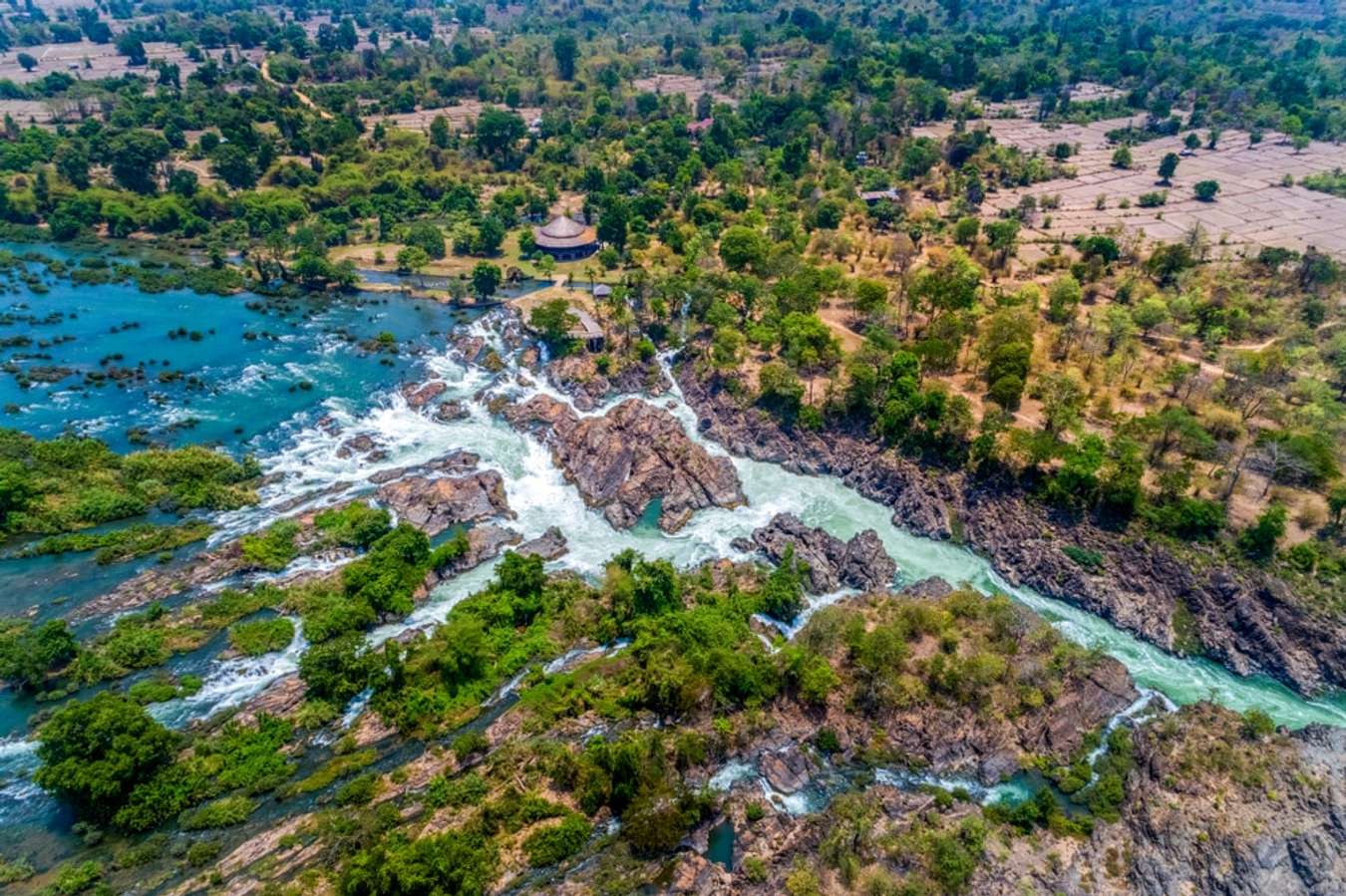 12. Tham Kong Lo Cave
A famous mysterious and scary tourist destination in Laos that attracts many adventurous tourists, Tham Kong Lo cave is where the Nam hun Bun river flows through, with cave walls over 90m high and long-standing stalactite columns. .
Tham Kong Lo Cave is quite mysterious, the cave is quite dark and dangerous, to have a smooth exploration journey you should hire a tour guide or book an tour at Threeland Travel and bring enough flashlights.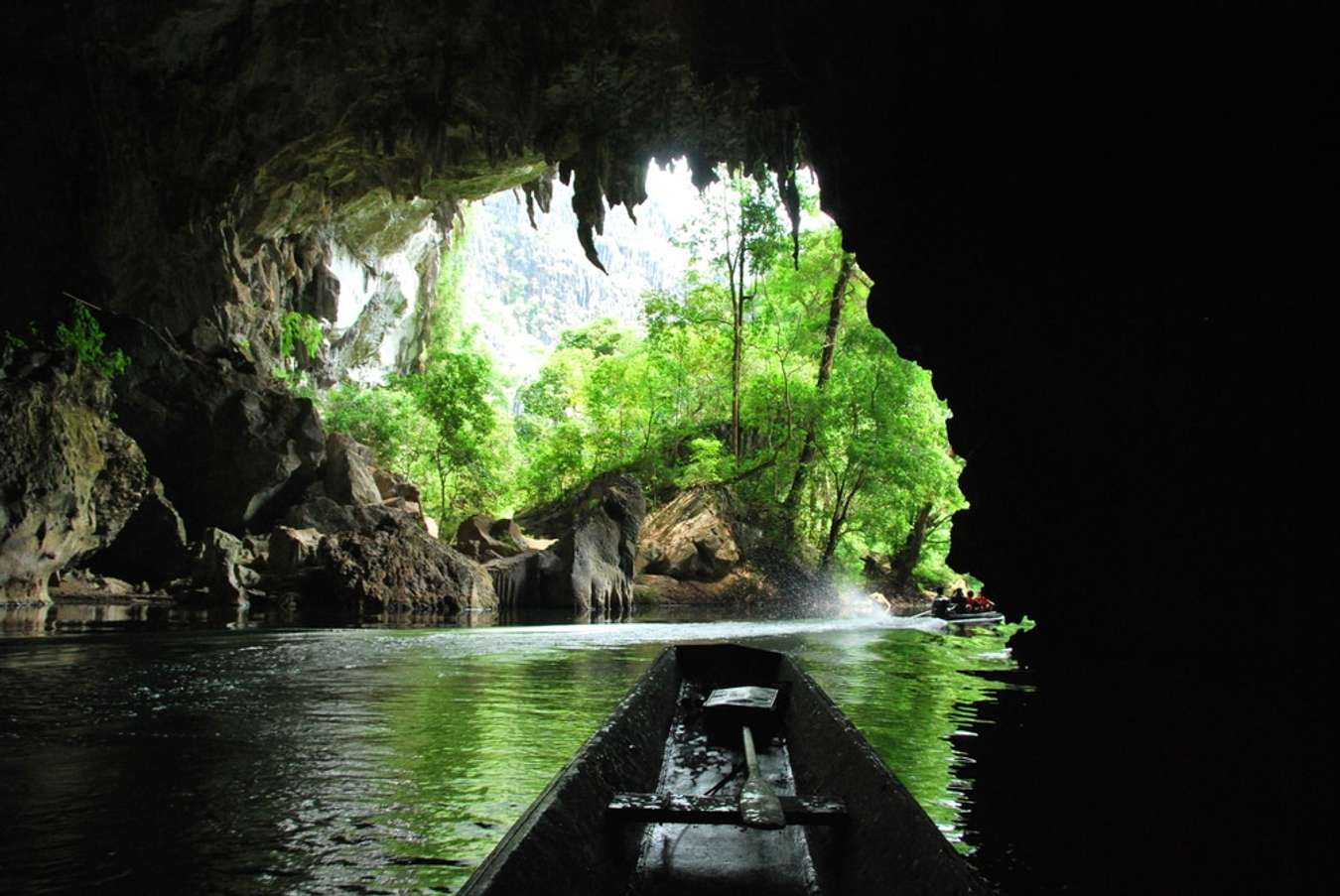 The small country of Laos with its poetic and peaceful beauty promises to be an ideal destination for travel enthusiasts. Although there are no famous landscapes or not as splendid beauty as other countries in the region, Laos tourist destinations still have a strange wildness, always having a unique attraction for those who like discover true natural beauty.