Vang Vieng, Laos: The 10 Best Things You Can't Miss
Have you ever considered visiting Vang Vieng on your trip to Laos? But you might be suspicious about the wild reputation that surrounds the town.
The major reason for the bad reputation of Vang Vieng is that it attracted youth who enjoyed tubing. You get on a large tube for tubing and float on a river. But in Vang Vieng, people also stopped for drinks and other stuff. This resulted in several deaths in the year 2011.
But in 2012, the local Lao government rearranged Vang Vieng's image by launching safety campaigns. They shut the bars, removed the water slide, and vowed to stop illegal activities.
So you can rest assured and include Vang Vieng on your holidays to Laos.
The essence of Vang Vieng, Laos
Vang Vieng is an enchanting town nestled amidst the majestic beauty of Laos. When you visit this town, time slows down, and you can feel nature's embrace in every breath. It boasts idyllic landscapes and a rich cultural heritage. You will be surrounded by lush green tapestries, the meandering Nam Song River, and massive limestone karsts.
Vang Vieng's ethereal charm lies not only in its breathtaking scenery but also in the warmth and simplicity of its people. With their genuine smiles and humble hospitality, the locals welcome visitors with open arms, making you feel like a part of their tight-knit community.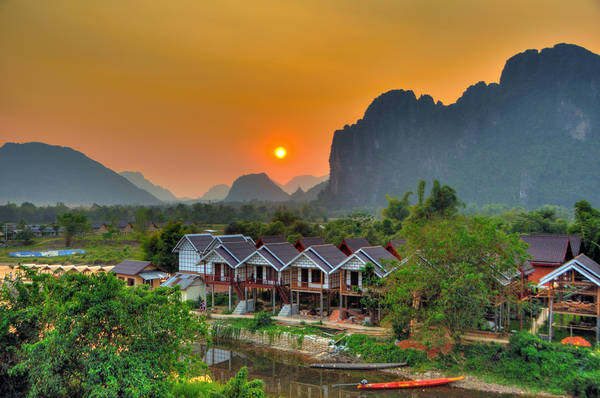 What to do in Vang Vieng?
1. Witness the breathtaking scenery
a. Tham Phu Kham Cave & Blue Lagoon
One of the major attractions in Vang Vieng is the Tham Phu Kham Cave and Blue Lagoon. Located about 7 km from the town center, this enchanting spot offers a refreshing swim in the turquoise waters of the Blue Lagoon, surrounded by lush greenery.
Adventurous people can also explore the Tham Phu Kham Cave, known for its impressive stalactites and stalagmites. To reach the cave's entrance, you must climb a steep, slippery path, so be prepared with good shoes and a sense of adventure.
b. Nam Song River
The Nam Song River is the lifeblood of Vang Vieng, offering stunning views of the surrounding limestone mountains and lush vegetation.
You can enjoy a stroll along the riverbank or embark on a kayak or tubing adventure to take in the scenery from a different perspective. The river is also home to several riverside bars and restaurants, perfect for grabbing a bite to eat or sipping on a refreshing drink while soaking up the views.
2. Embrace the adventure
a. Tubing
Vang Vieng is famous for its tubing scene, where you can float down the Nam Song River on a large inflatable tube.
Tubing in Vang Vieng is a popular activity for those on holidays to Laos, as it offers a unique and fun way to explore the stunning surroundings. The tubing route takes you past spectacular mountain views. Remember to keep an eye on the time, as the river can become dangerous after dark.
b. Kayaking
For a more active adventure on the Nam Song River, consider Kayaking. This popular activity allows you to paddle through the breathtaking landscape, navigating rapids and passing by impressive limestone cliffs.
Several tour operators in Vang Vieng offer guided kayak trips catering to various skill levels and interests.
If you are a kayaking lover, consider Vietnam Tours, as the country can provide you with an exceptional kayaking experience.
3. Explore the vibrant nightlife
a. Popular Nightlife Venues
Vang Vieng boasts a variety of popular venues where travelers can enjoy the town's energetic nightlife. These venues often feature lively parties, live music, and drink specials, providing an excellent opportunity to socialize and dance the night away.
Join fellow travelers in experiencing the vibrant atmosphere that permeates the town after dark.
b. Cozy Bars and Restaurants
Vang Vieng has several cozy bars and restaurants, offering a more relaxed and laid-back ambiance. These establishments provide a welcoming setting to unwind and socialize after a day of exploring the town's natural wonders.
Enjoy a wide range of drinks, and indulge in delicious food. And perhaps even catch some live music performances, immersing yourself in the local nightlife at a more leisurely pace.
4. Discover local cuisine
For a more casual dining experience, explore the street food scene in Vang Vieng. You will find an array of tasty local dishes, such as Lao-style barbecue, papaya salad, and sticky rice, all at affordable prices.
Street food vendors are scattered throughout the town, so be adventurous and try something new.
5. Connect with nature
a. Hiking
With its stunning natural surroundings, Vang Vieng is a hiker's paradise. There are numerous trails available, ranging from easy strolls to challenging treks.
One popular hike is the ascent to Pha Ngeun, a viewpoint offering panoramic views of Vang Vieng and the NamSong River. Be sure to wear sturdy shoes, carry plenty of water, and start early to avoid the midday heat.
b. Hot Air Ballooning
For a truly unforgettable experience, consider a hot air balloon ride over Vang Vieng's breathtaking landscape. This once-in-a-lifetime adventure will provide unparalleled views of the lush vegetation, limestone karsts, and winding river below.
6. Unwind with yoga and meditation
a. Yoga Classes
Unwind with a calming yoga class after a day of adventure and exploration. Several studios in Vang Vieng offer drop-in classes suitable for all skill levels. Practicing yoga in this serene environment, surrounded by natural beauty, is a truly rejuvenating experience.
b. Meditation Retreats
For those wanting a deeper connection to themselves and the environment, consider attending a meditation retreat.
Vang Vieng is home to several retreat centers, offering mindfulness, stress reduction, and personal growth programs. These retreats are an excellent opportunity to recharge your batteries and develop a new perspective on life.
7. Immerse yourself in local culture
a. Lao Textiles
During your holidays to Laos, be sure to explore the local arts and crafts scene. In Vang Vieng, you will find a range of beautiful Lao textiles, including traditional handwoven fabrics and intricate silk pieces. Visit local shops and markets to find unique souvenirs and support local artisans.
b. Village Visits
To gain a deeper understanding of local culture, consider visiting nearby villages. Many tour operators offer guided village tours, allowing you to interact with local residents and learn about their customs and traditions. This is an excellent opportunity to witness daily life in rural Laos and connect with the local community.
8. Learn About History and Heritage
Vang Vieng has several historic temples showcasing the region's rich cultural heritage. One such temple is Wat Kang, a serene and picturesque site that provides a glimpse into Lao history and Buddhist traditions.
If cultural heritage excites you, include Cambodia tours in your bucket list. It is known for mesmerizing heritages that will give you a unique experience.
9. Cycle through the countryside
Renting a bicycle is a brilliant way to explore the picturesque countryside surrounding Vang Vieng. You can pedal past rice paddies, limestone mountains, and charming villages with a wide network of trails and quiet roads.
10. Try your hand at rock climbing
Vang Vieng's towering limestone cliffs make it a popular destination for rock climbing enthusiasts. Several climbing schools in the area offer courses for all skill levels.
Wrapping up!
Whether you seek adventure, relaxation, or a deeper connection to the local culture, Vang Vieng has something for everyone. Threeland Travel is the best tour operator providing the tour packages with affordable price ranges. Allow Threeland to be your guide and get ready for the Best tour of Vietnam, Laos tours, Cambodia tours and many other more tours for travel lovers to create lasting memories and embark on the adventure of a lifetime!