Unmistakable typical dishes of Cambodian cuisine
Although Cambodian cuisine has a long history, it has only recently become known to the world. When traveling to Cambodia and try the dishes which are typical of the Khmer people with the perfect combination of salty, sweet, spicy and sour with unique ingredients from the Mekong River region.
Cambodian cuisine is rich because of the Mekong River and the large Tonlé Sap Lake, which provide freshwater fish and seafood for dishes. Cambodia's main foods are rice, cassava, taro and sweet potatoes. Cambodians love greens or vegetables in curries, soups and stews. Spices, herbs, rhizomes, dried fruits, flowers and leaves are used for flavor and decoration.
Cambodian cuisine has been shaped by the country's culture and history, including the lasting influence of French colonialism, not only in the form of French baguettes but also dumplings and other baked goods.
The most typical side dish in Cambodia is prahok, a fermented paste made from a small fish called trey riel (a type of ling fish), gray or brown in color, with a strong smell and rich flavor. It is used as a spice in many dishes, making up a large part of the protein in the Khmer diet.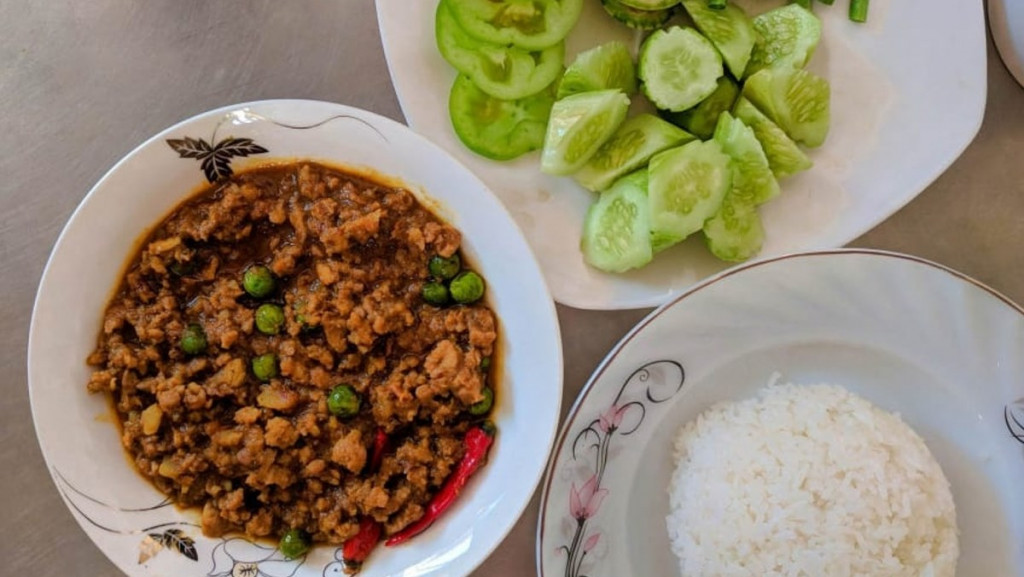 1. Amok (Amok trey)
This is a typical Cambodian dish, made from fish, shrimp or chicken mixed with coconut milk and many spices, then steamed in banana leaves. This dish has a delicious, sweet and mildly spicy flavor.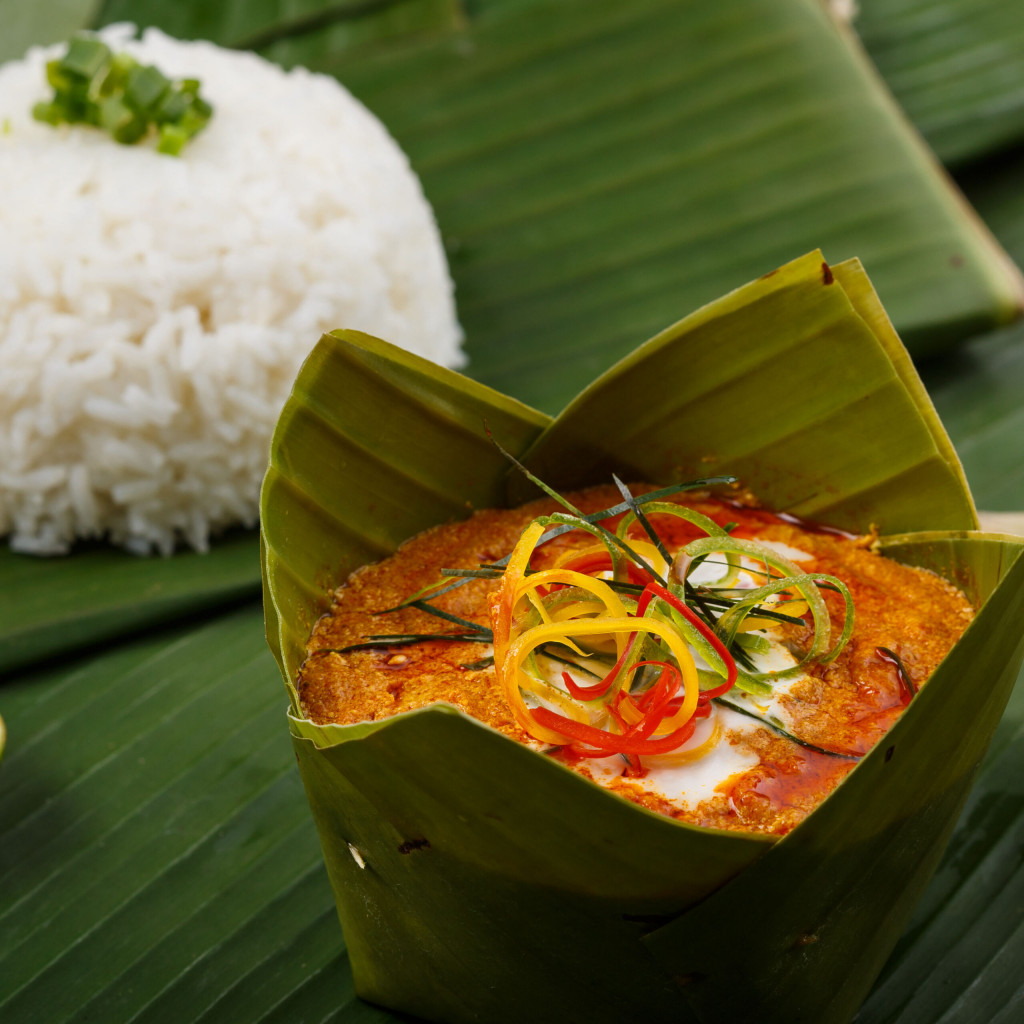 Read more: Phnom Penh street food tour : Top street food that makes young people crazy
2. Bai sach chrouk
A popular breakfast dish in Cambodian cuisine, consisting of steamed rice, grilled pork or chicken, and fish cakes. Thinly sliced pork is marinated with palm sugar and fish sauce, then slowly grilled over charcoal. This dish is often eaten with Mekong fish sauce and raw vegetables, pickled cucumbers, radishes...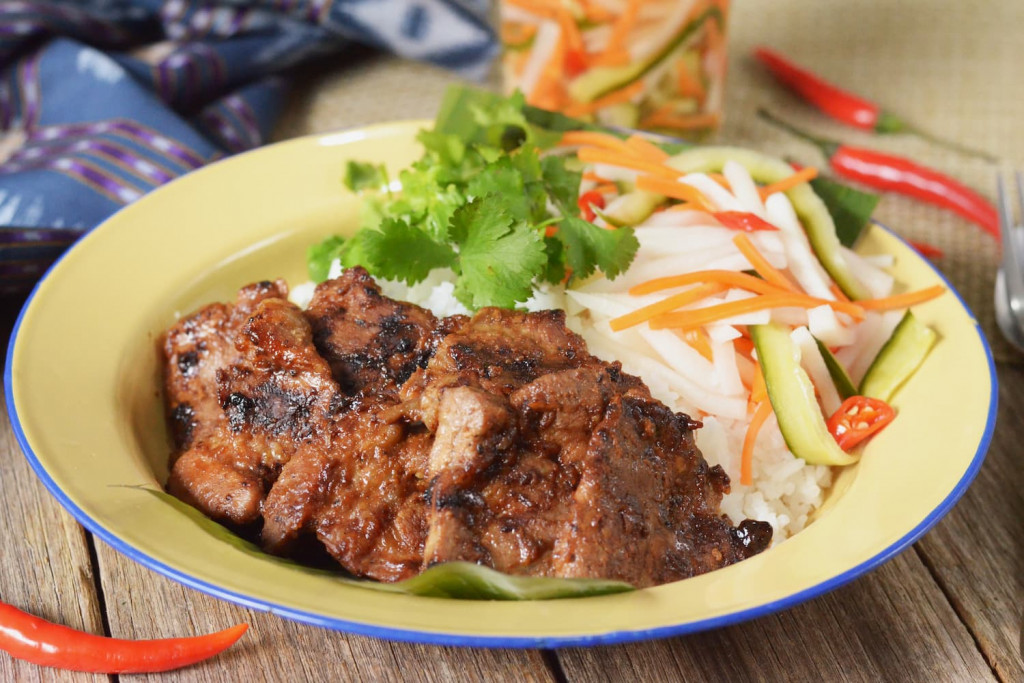 3. Kuy teav
Kuv teav is a noodle dish in Cambodia, also a popular breakfast dish, often sold in street vendors. The broth of this dish is made from beef or pork bones, flavored with fried shallots, green onions, garlic and bean sprouts. Pork or beef balls are popular "toppings," added immediately before serving.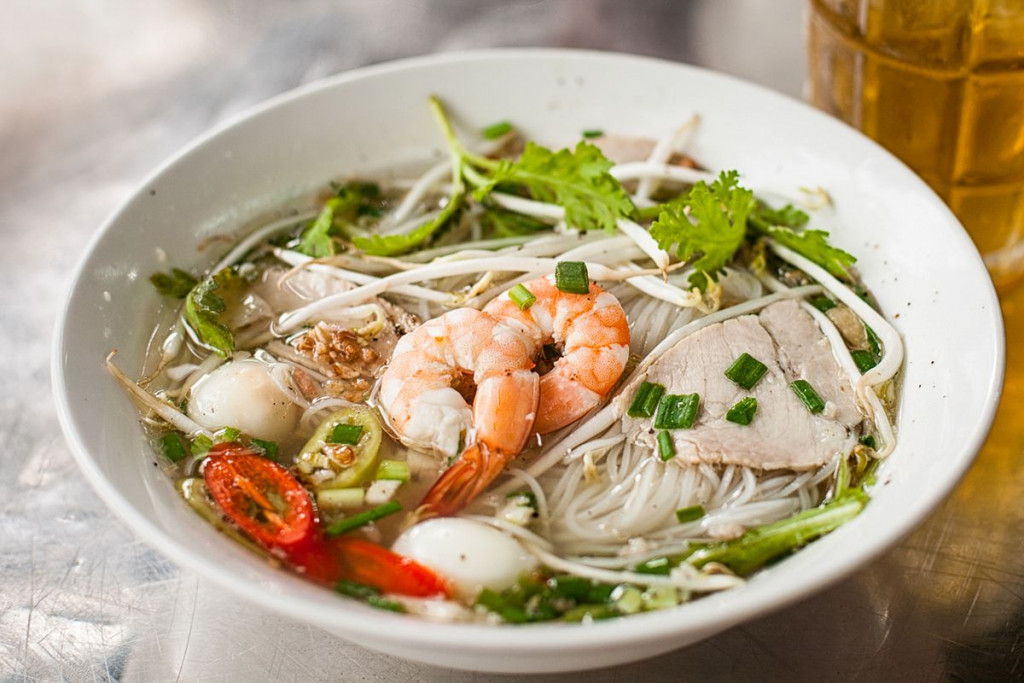 4.Lap Khmer
This beef salad is made with slices of well-cooked beef marinated in lime juice with shallots, fish sauce, basil, mint, garlic, bell peppers and hot peppers. Due to its extremely rich flavor, it is often eaten as a bar snack.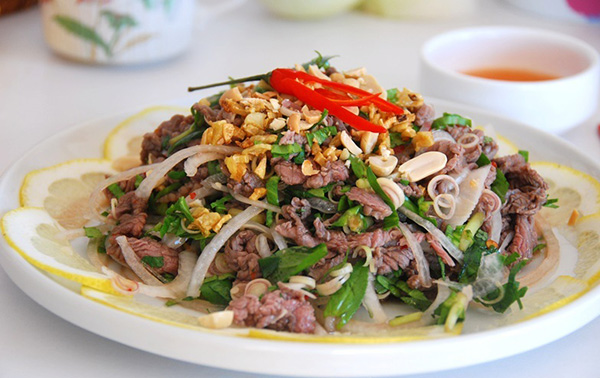 5. Samlor kako
Samlor kako is considered one of Cambodia's national dishes. Samlor kako includes green kroeung, prahok, roasted rice, catfish, pork or chicken, vegetables, fruits and herbs. In Khmer, "samlor" means soup, and "kako" means to mix or stir, so it is a mixed soup cooked with a variety of vegetables according to taste. Usually, this dish is cooked from pumpkin, papaya, green bananas, eggplant and long beans. The fish meat is mixed with prahok, then all the vegetables are put in a pot with boiling water so that the dish is cooked over moderate heat.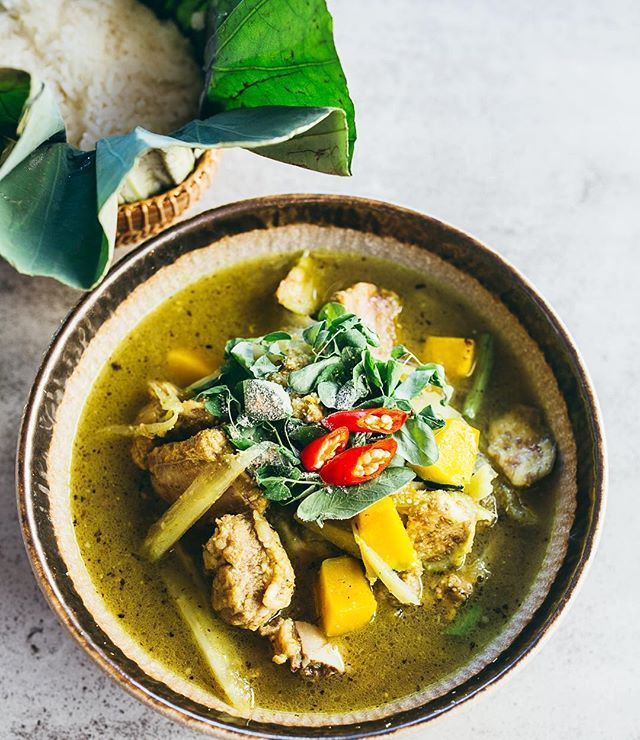 6. Nom banh chok
Nom banh chok is a noodle dish often served for breakfast or as an afternoon snack. The fermented vermicelli noodles are handcrafted in a mill, soaked in a sauce of lemongrass, kaffir lime leaves, galangal, turmeric and freshwater fish simmered for hours in coconut milk. It is then topped with raw vegetables such as banana blossoms, cucumbers, water lilies and fresh herbs such as mint and basil.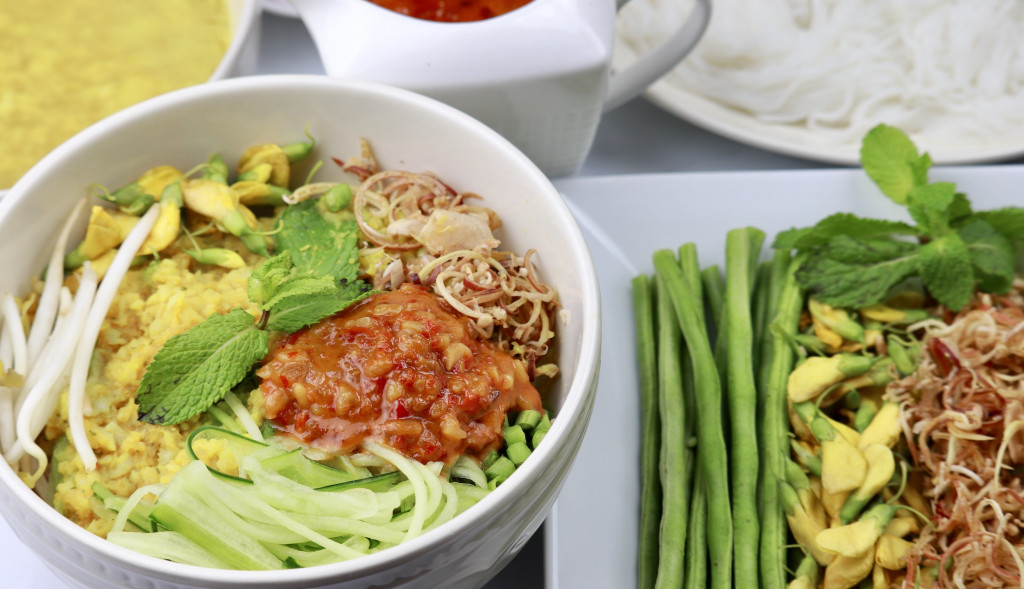 7. Prahok ktis
Cambodian rich Prahok ktis is served with fresh vegetables and rice. The three main ingredients of this dish are fermented fish (prahok), lemongrass powder (kroeung) and coconut milk. This is a traditional Khmer dish that uses kroeung, a lemongrass powder made from herbs and spices, and prahok, which is very popular in Cambodia. Thanks to the accompanying foods, the originally spicy prahok becomes mild, eaten with rice and boiled vegetables or sliced cucumbers.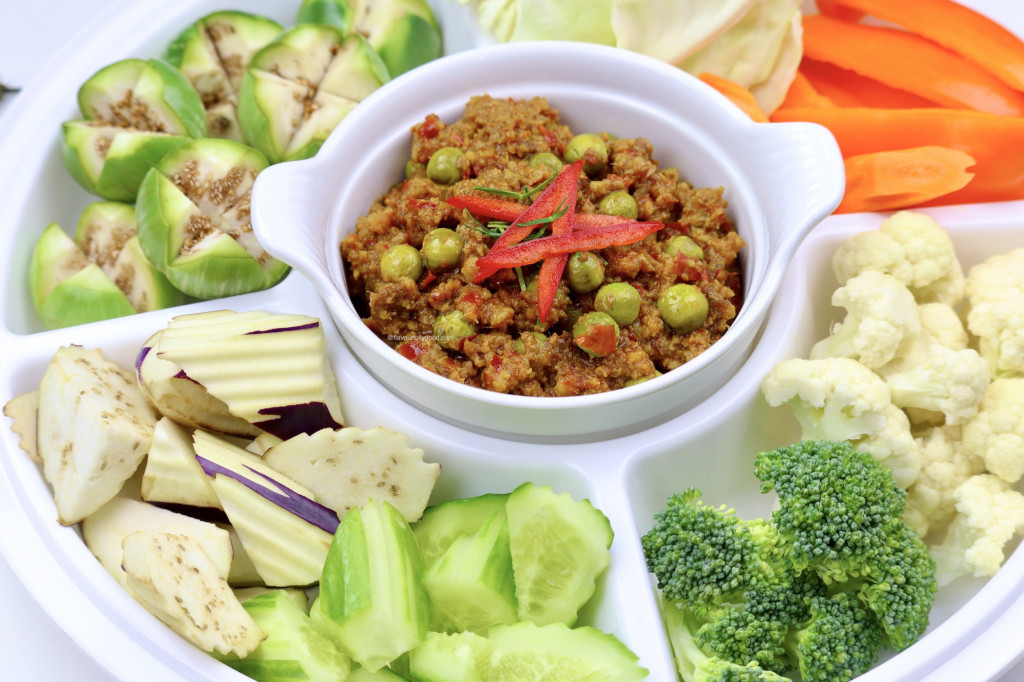 8. Num pang
Num pang is a bread similar to Vietnamese bread, also influenced by French cuisine. Banh mi is one of the most popular and typical street foods of Cambodian cuisine. The dish is prepared with a variety of ingredients such as butter, pate, mayonnaise, hot chili, papaya salad, pork, accompanied with fish sauce and soy sauce.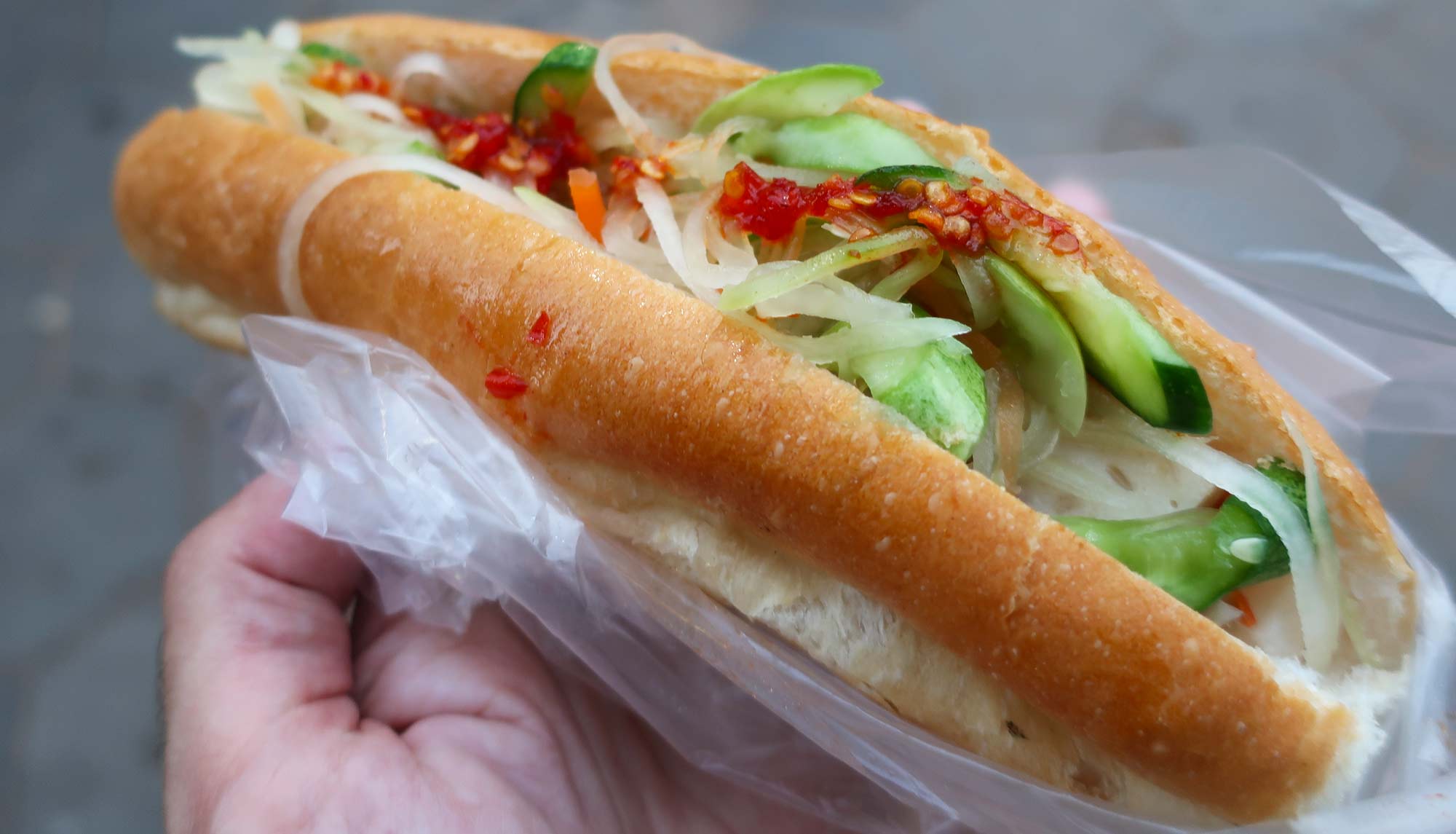 9. Kralan
Like Vietnamese lam rice, Kralan is a traditional rice dish cooked in bamboo tubes with ingredients such as beans and grated coconut. Locals tend to eat this dish during New Year as a long-standing tradition.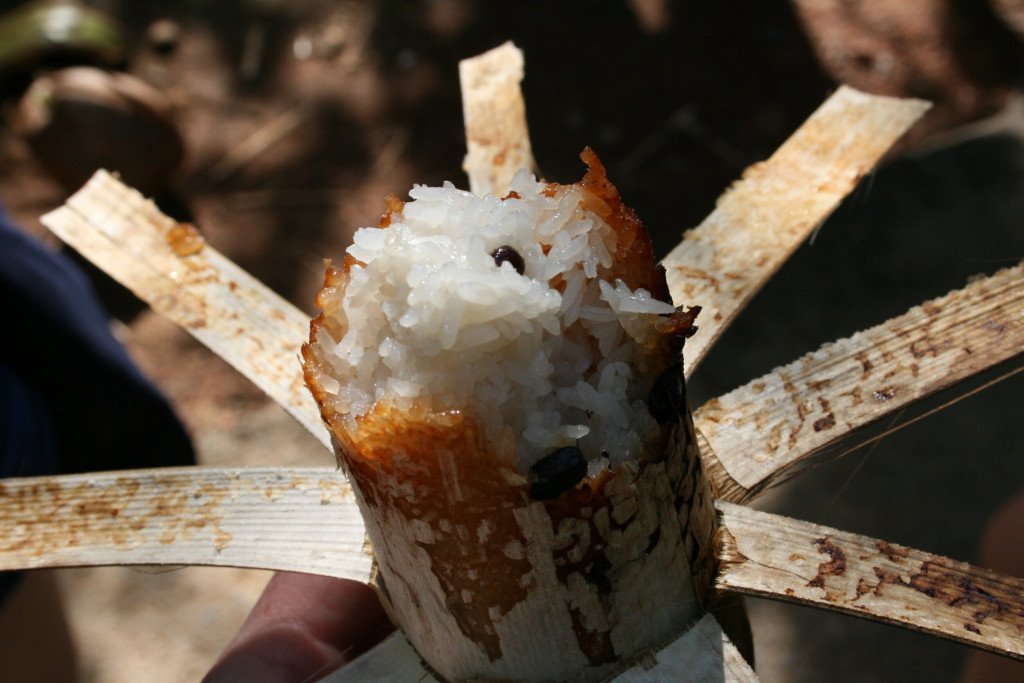 10. Lok lak
Lok lak is a Cambodian stir-fry dish that uses beef, chicken or shrimp as the main ingredients, although beef is often the most popular choice. For the beef version, traditionally a layer of lettuce leaves is topped with cucumbers, tomatoes, raw onions and then stir-fried beef. Usually this dish will be eaten with an fried egg. Additionally, the famous Kampot lemon and pepper dipping sauce with black pepper really brings out the flavor of this dish.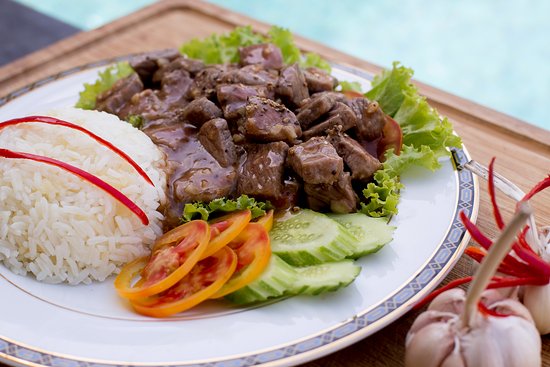 11. Yaohon
Yaohon is a Cambodian hot pot dish containing a variety of vegetables, meat and seafood. The broth is made from a mixture of coconut milk, chicken broth, barbecue sauce, fish sauce, soy sauce, kaffir lime leaves, lemongrass and palm sugar. Typical vegetables include watercress, spinach and bok choy, while meat and seafood options often include beef, chicken, shrimp, squid, oysters and mussels. There are also crushed peanuts, quail eggs, mushrooms...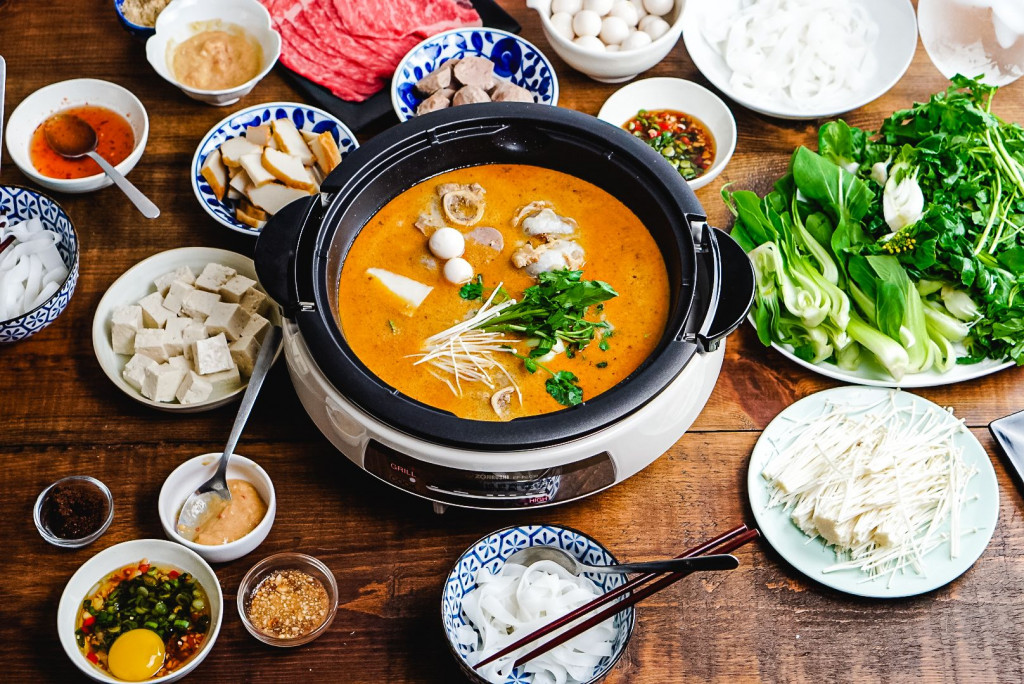 12. Samlar kari
This is a traditional chicken curry consisting of chicken pieces in a silky smooth coconut sauce flavored with Cambodian kroeung sauce, shrimp paste, fish sauce and palm sugar. The dish can optionally add vegetables such as purple sweet potatoes, onions, bamboo shoots, carrots, eggplant, cowpeas or spinach.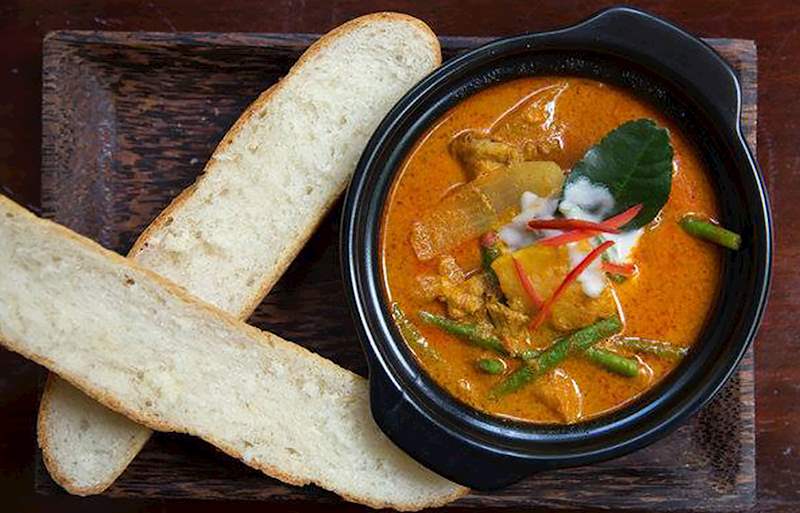 13. Pleah book no
Pleah sach ko is usually made with thin, bite-sized pieces of raw beef. The meat is marinated in lime juice, then covered with a layer of clear lime juice, a mixture of chicken juice, fish sauce and sugar. A variety of chopped vegetables and fresh herbs are often added to the dish, usually green eggplant, shallots, garlic, radishes, bell peppers, jalapeño peppers, green onions and lemongrass, basil, mint and cilantro. When eating, people sprinkle with roasted rice and crushed peanuts.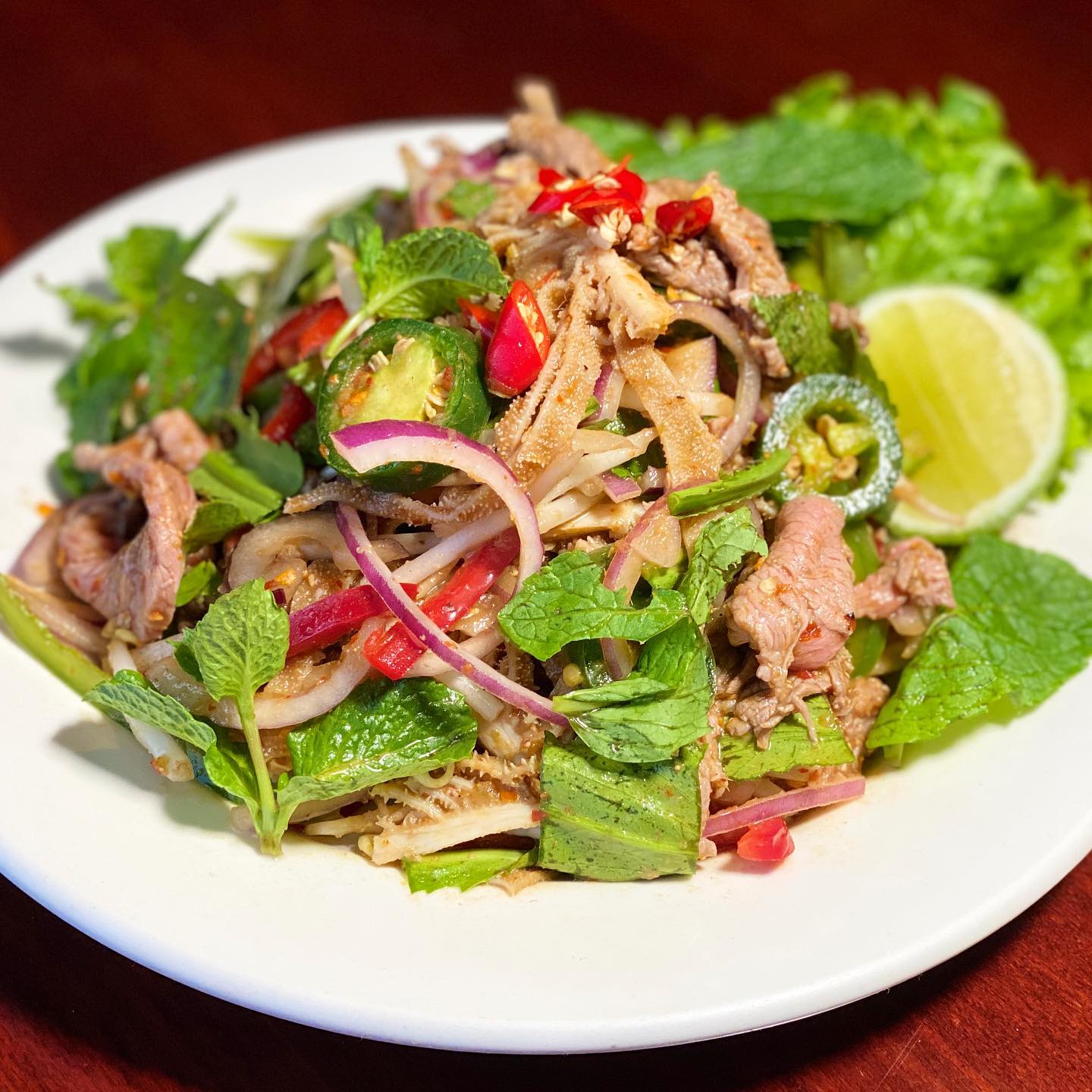 14. Samlar machu
Samlar machu is made from meat, fish or seafood and vegetables cooked in sour broth. Local seasonal vegetables and herbs may include spinach, shallots, green onions, tomatoes, kaffir lime leaves, spicy basil, cilantro and lemongrass. Other important ingredients in this dish are fermented fish paste, prahok, and kroeung, while acidic ingredients include krasaing fruit seeds, tamarind or kaffir lime juice.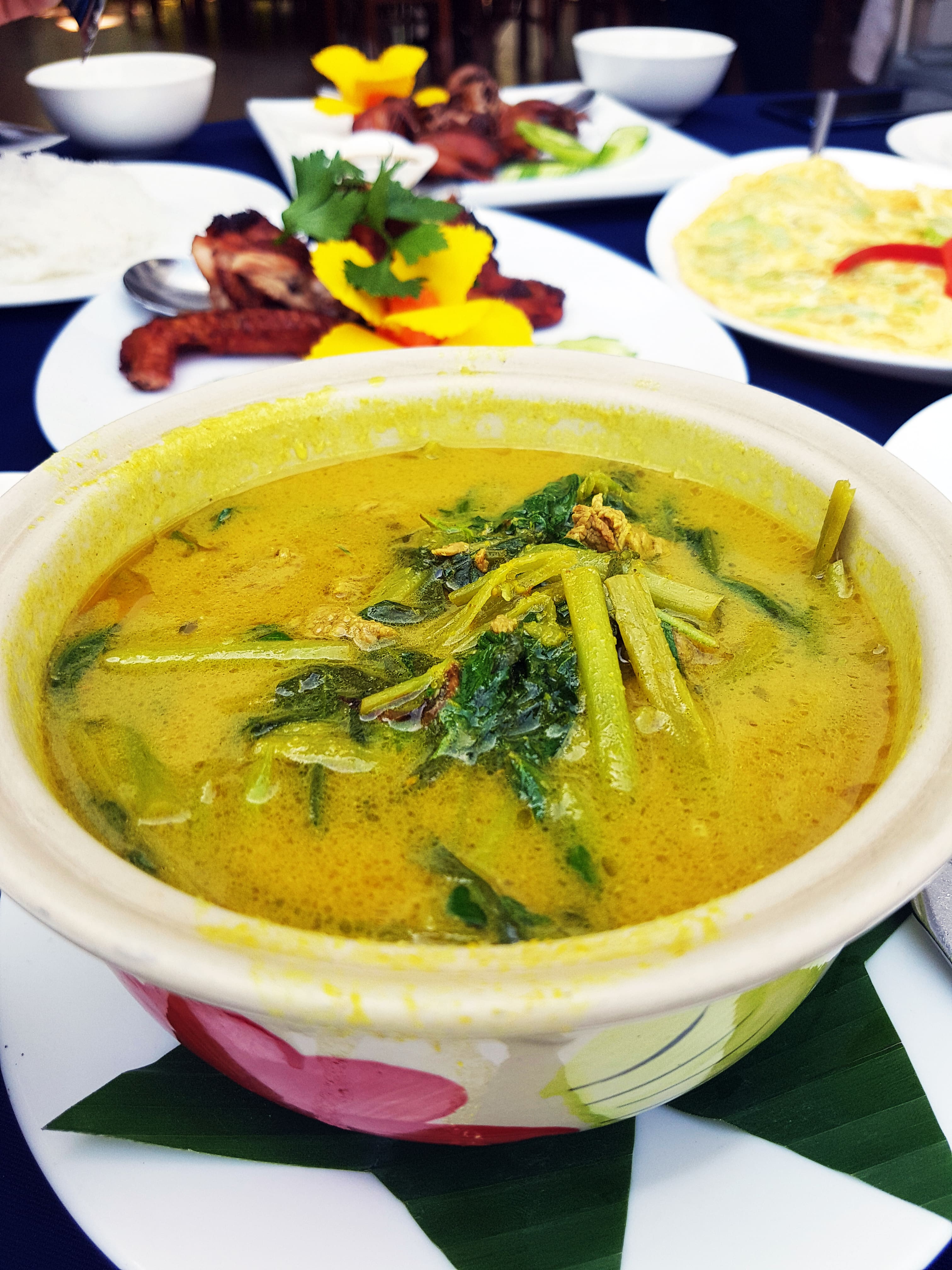 We hope this travel article was helpful and instructive if you're thinking of visiting Cambodia in 2023. Cambodian cuisine is a great way to learn about Cambodian culture and history and you will undoubtedly have a great time there. Choose Threeland Travel to assist you in planning your trip to Cambodia if you are seeking for a reputable and competent travel operator. Depending on your preferences and financial constraints, we may modify your schedule, and we can organize everything from buying tickets to reserving hotel and transportation. Visit our website or give us a call immediately to find out more about our great offers and packages. You shouldn't pass up the chance to go to Cambodia with Threeland Travel!