Phnom Penh street food tour : Top street food that makes young people crazy
Street food is always an attraction for many tourists. Not only delicious and cheap, but it also shows the soul and unique features of the local culture. Phnom Penh is not only the most developed capital of Cambodia, many scenic spots. Phnom Penh street food is also an interesting experience for tourists.
1. Cambodian Num Pang Sandwich
Places to visit: Kandal market, Street 5, Phnom Penh.
Cambodia used to be a colony of France, so the cuisine here is also influenced by French cuisine. Num Pang bread is proof of this. It looks like a Vietnamese sandwich, but the taste is completely different.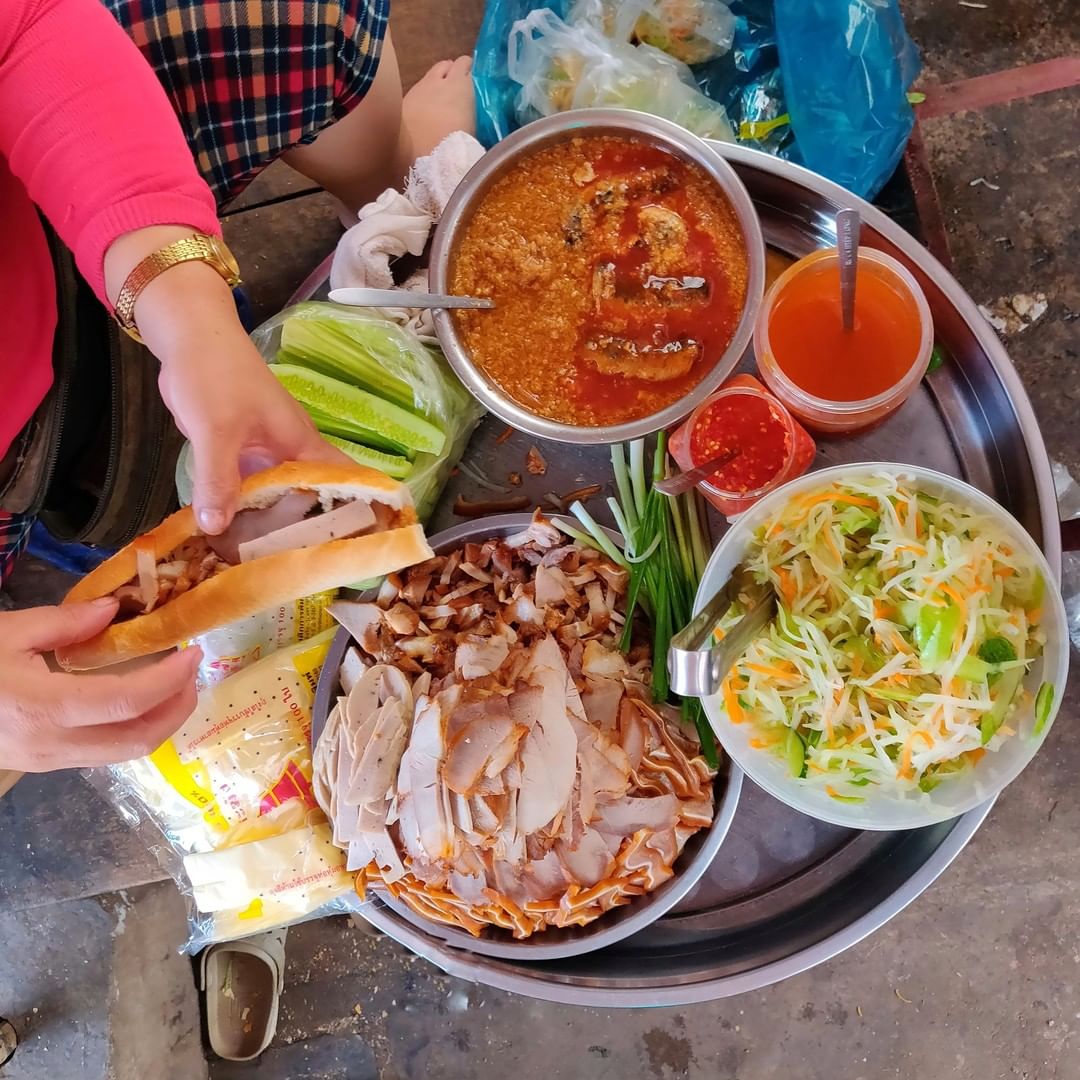 The dish is prepared with a variety of ingredients inside such as butter, pate, mayonnaise, hot peppers, papaya salad, pork, accompanied by fish sauce and soy sauce. All are carefully prepared, meticulously and separately for each type of ingredient. When visitors have a need, the shop owner will quickly bring visitors a loaf of Num Pang bread with authentic Cambodian cuisine.
2. Bai sach chrouk – Phnom Penh street food
Place to visit: Kandal market, 5th street, Phnom Penh.
Bai Sach chrouk is a popular breakfast dish of the people of Phnom Penh. The dish is made from grilled pork, served with rice. And add some other side dishes depending on the goods sold.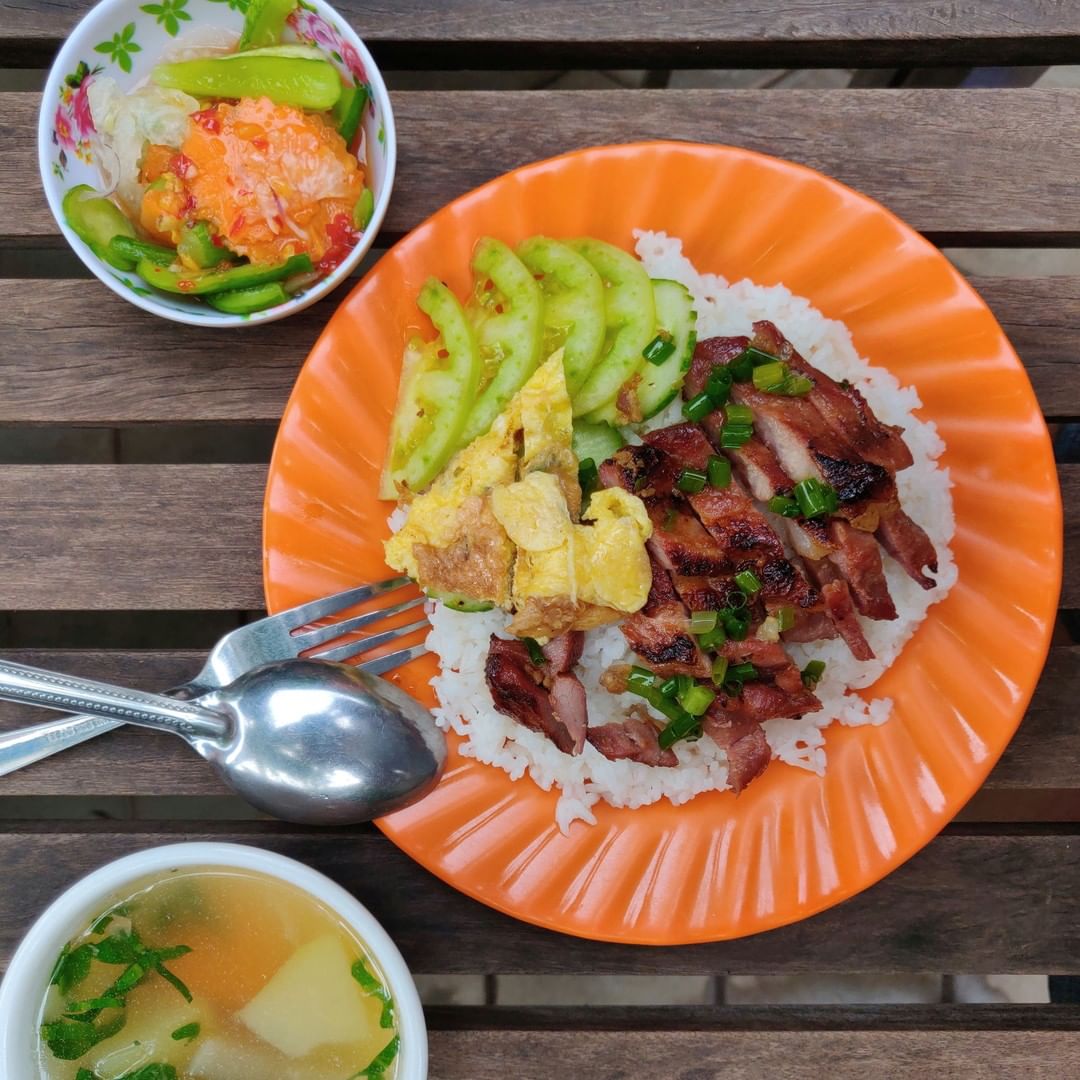 The way to prepare this dish is very simple. Pork is marinated with coconut milk and garlic to infuse the spices. Then grill over charcoal until cooked. Thinly sliced grilled meat and rice are served with fried egg, cucumber, chili or raw vegetables.
3. Nom banh chok – Phnom Penh street specialty
Place to visit: Rusisan Market, Road 440, Phnom Penh.
Nom ban chok is considered a "national specialty" of Cambodia. This is a rustic street noodle dish, sold by street vendors walking along the streets. The ingredients of this dish are very simple: noodles, lemongrass, bean sprouts, banana flower, cucumber.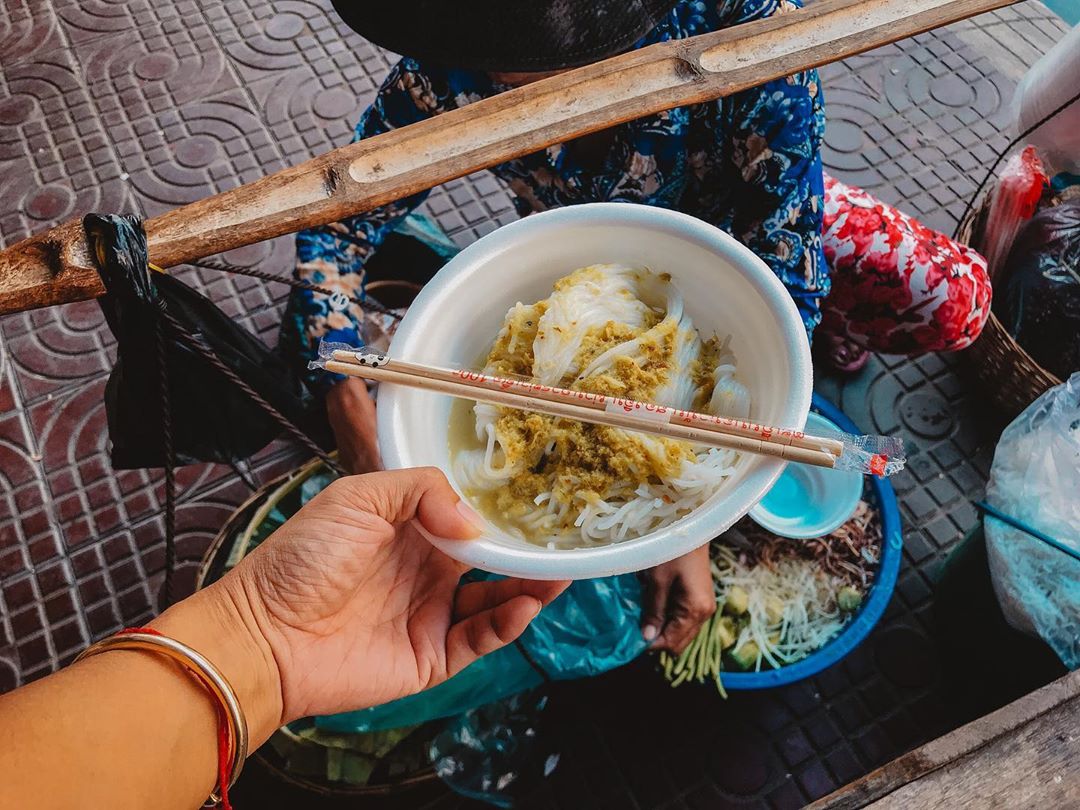 The dish is most enjoyed in the morning. Noodles with fish curry sauce with strong flavor of lemongrass, lemon leaves and yellow turmeric. Nom Banh Chok noodles are usually served with raw vegetables, bean sprouts, cucumbers and spicy chili sauce.
4. Num Plae Ai – Phnom Penh street food easy to make
Places to visit: Road 258 and Sisowath Quay, Phnom Penh.
Considered a dessert, Phnom Penh's street food is famous. These little, pretty cakes are so easy to make. Cake is made from rice flour, flexible, smooth, pure white. The inside is stuffed with caramel or jaggery. The outside is covered with a layer of shredded coconut rice.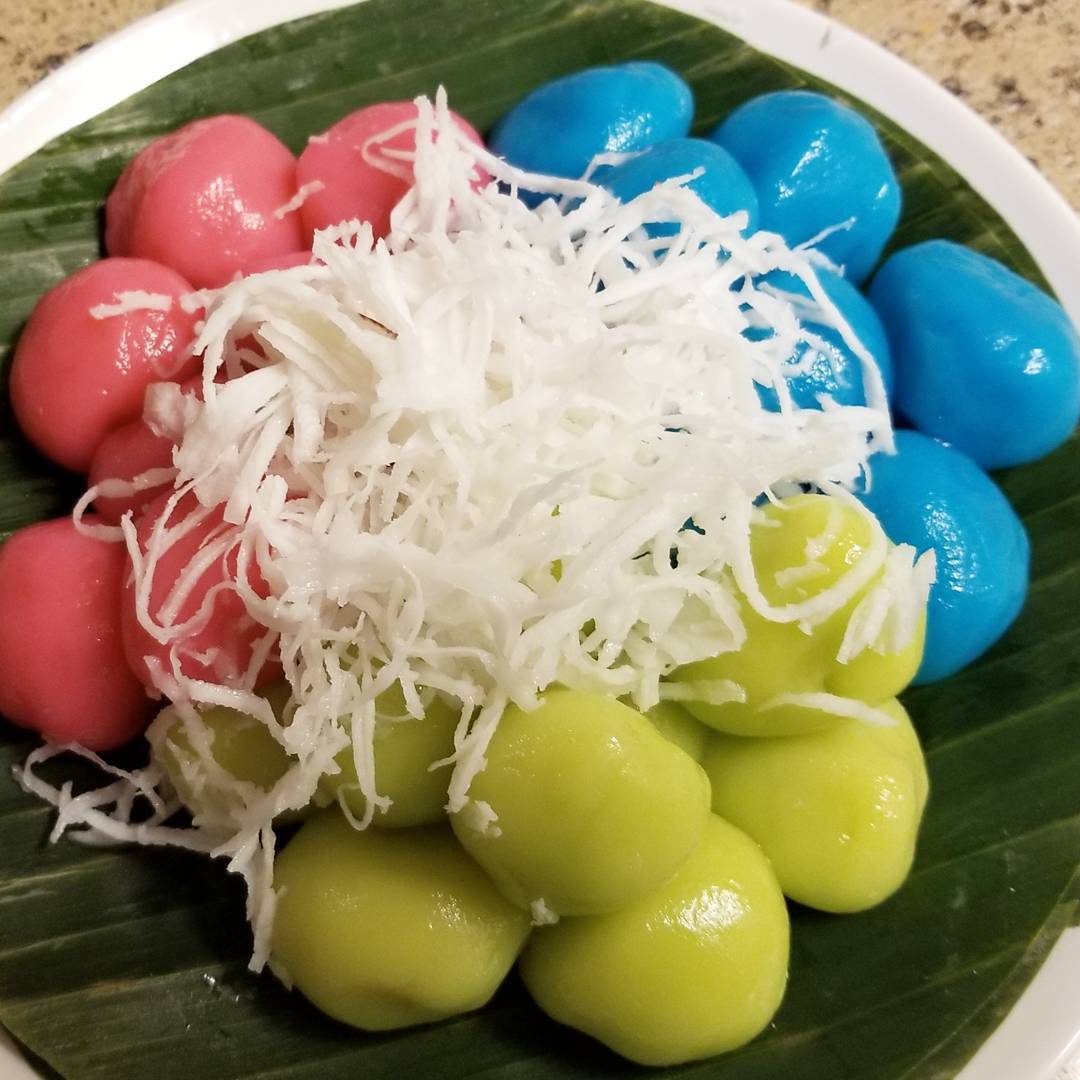 Just take a bite of the softness and smoothness of the cake shell, enveloping the sweet and fragrant taste of the cake, the fleshy taste of fresh coconut makes everyone want to eat more. You can find this dish at any street food stall in Phnom Penh.
5. Num Sang Khya l'peou
Place to visit: Orussei Market, Road 182, Phnom Penh.
Num Sang Khya l'peou is made from pumpkin. People will scrape out the seeds of the squash, then fill the intestines with egg whites, jaggery and coconut milk. After that, the pumpkin pieces will be steamed for about 30 minutes. Dishes when being sold will be cut into pieces with separate color layers. You will be impressed with the eye-catching color on the outside and the soft, sweet and spongy taste of eggs, pumpkin and coconut milk inside.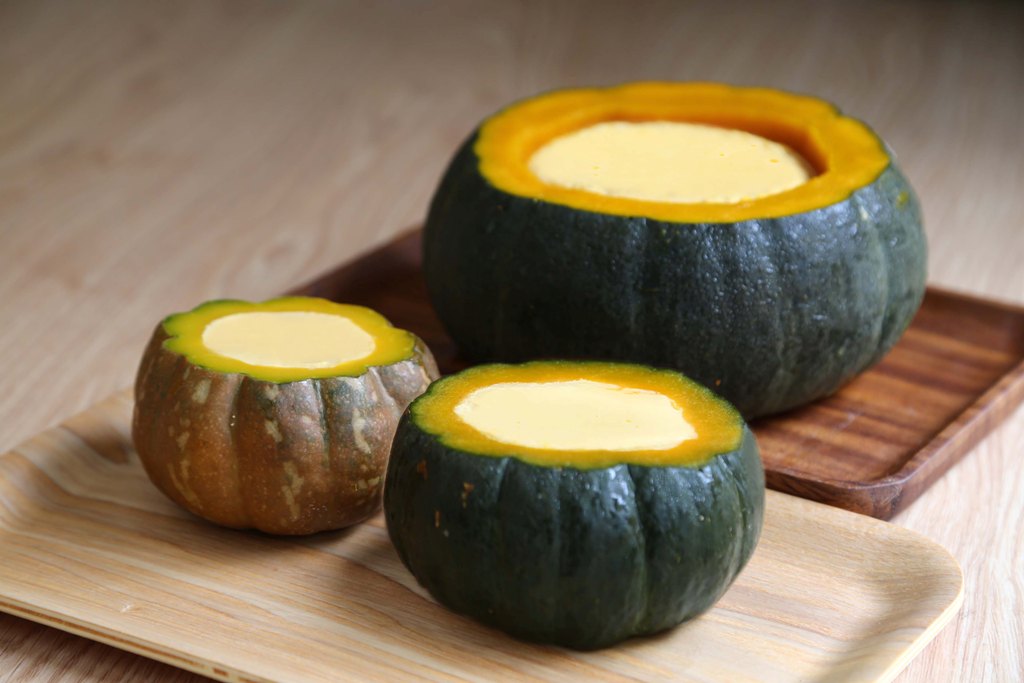 6. Mi Char – Phnom Penh Street Food
Places to visit: Central Market, 53rd Street, Phnom Penh.
Mi char or fried noodles is a popular Phnom Penh street food with young people in this country. Vendors here use a variety of noodles to stir-fry: instant noodles, yellow egg noodles, rice noodles, etc. The noodles are stir-fried with soy sauce or fish sauce for a bolder flavor. Next will add ingredients such as beef, green vegetables, accompanied by fried eggs. Stir the noodles until they are evenly cooked, season to taste and then place on a plate. Mi char is served with chili sauces for a very special taste.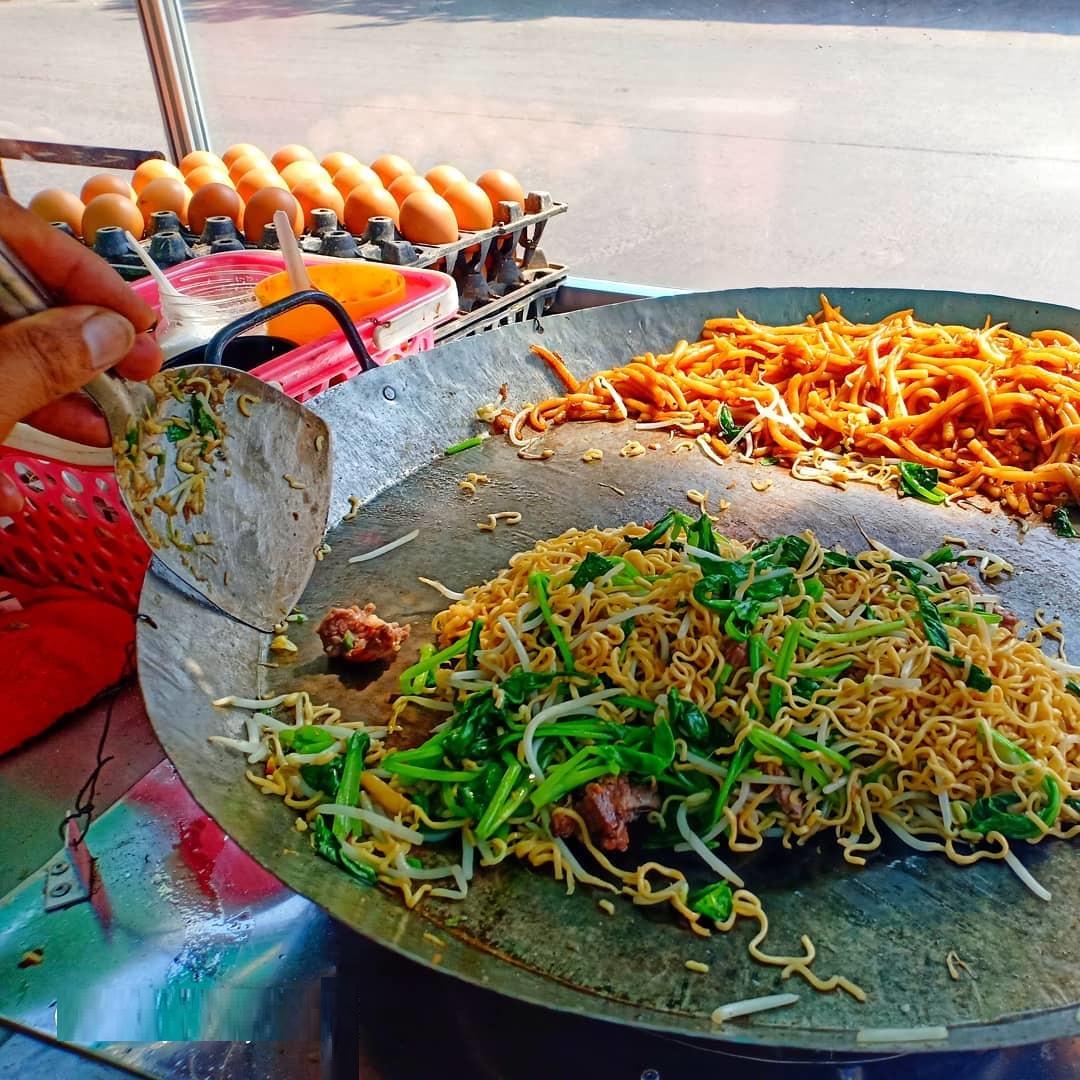 7. Amok – Popular dish in Phnom Penh
Place to visit: Orussey Market, Phnom Penh.
Amok is a dish considered the quintessence of Cambodian cuisine. Amok has the sweet taste of jaggery, the sweetness of coconut water, the faint smell of bohoc fish sauce. Ingredients for this dish include: chicken breast or fish, whole coconut with prohok fish sauce, galangal, turmeric, red onion, garlic, minced lemongrass.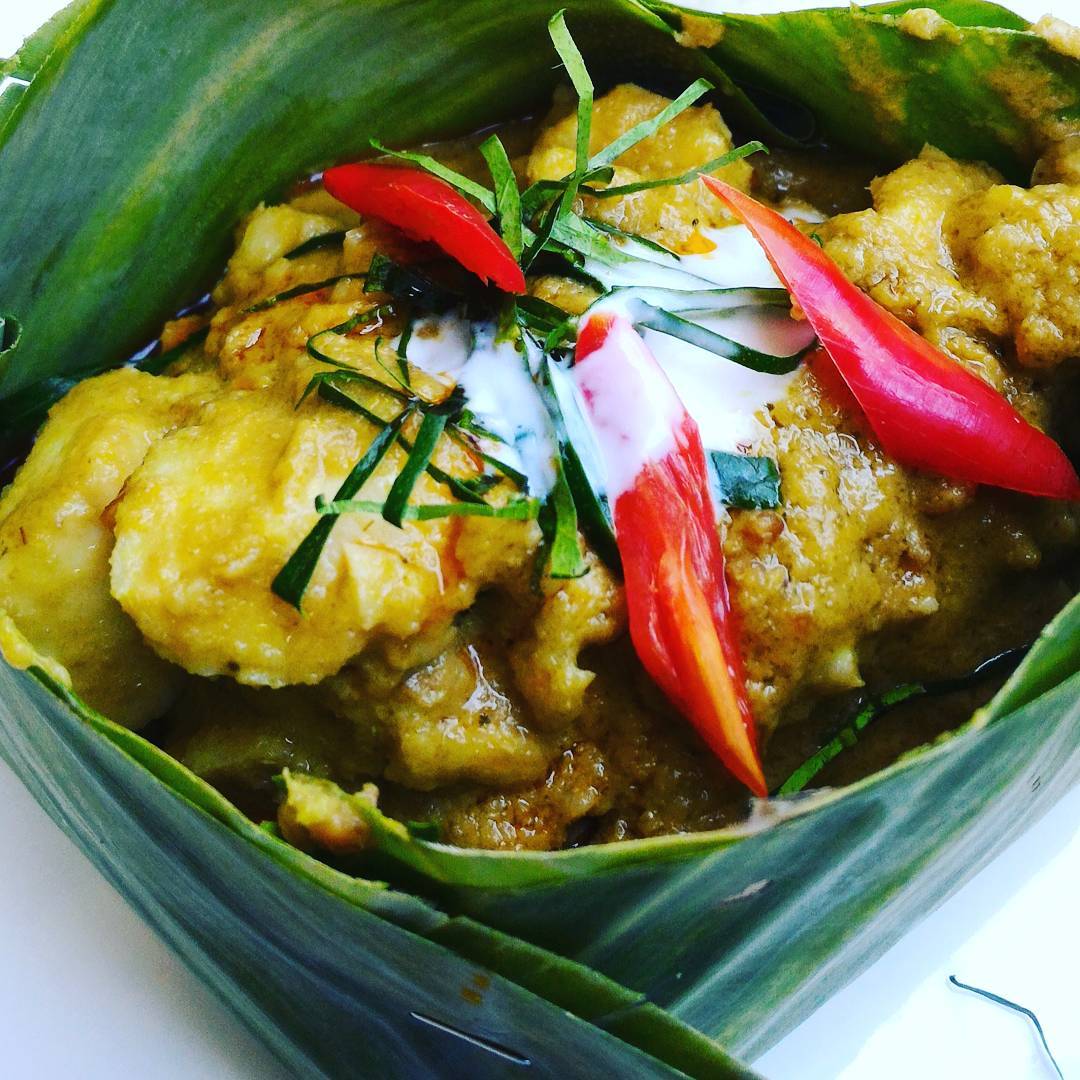 The typical amok dishes are usually chicken amok, fish amok... often wrapped in banana leaves. Beef sauce, sugar and eggs will be beaten into a mixture. Bring to a boil, then wrap whole fish fillets with this mixture, add a few leaves of slok Ngor, a local herb, and wrap with banana leaves and steam.
"What to eat in Phnom Penh?" Now it's not a difficult question. Above are some famous Phnom Penh street food, loved by many tourists. Do not miss the opportunity to discover and experience the cuisine here.
Read more :
Tours to Vietnam from Australia: Discover the Best of Southeast Asia