The unique culinary culture of Laos - Laos food tour
Coming to Laos, you cannot ignore the culinary experience here. Like many other countries, Laos has a unique cuisine. Let's find out through the following article with Laos food tour!
The unique culinary culture of Laos
Featured in Laotian cuisine
In general, in the culinary background, Lao cuisine is somewhat simple. The main dish of Laos is grilled dishes. Some typical grilled dishes, grilled pork, grilled hot pot, beef patties, grilled chicken… Although the ingredients are not complicated, they are always carefully selected. The accompanying vegetables are also very diverse from ginger, chili, garlic, to green eggplant, tomato, etc. The ingredients also come from all over the specialized farming areas in Laos.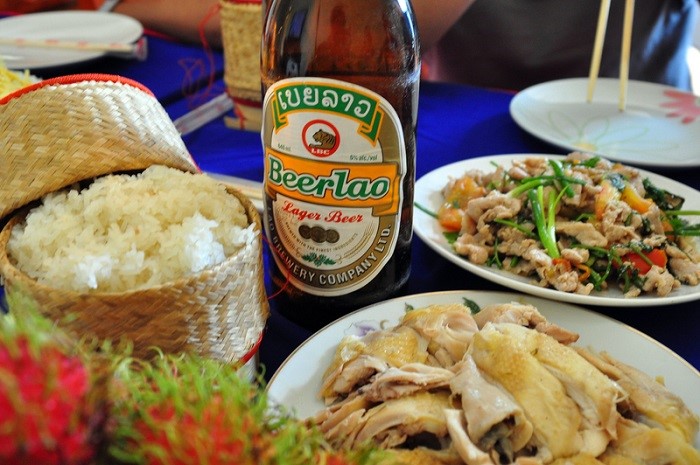 Lao cuisine is not fussy, not important in terms of aesthetics and decoration, but pays great attention to the taste and richness of the dish. Therefore, the sauces are prepared very sophisticatedly, to keep the balance between sour, spicy, salty and sweet. In which spicy is considered the main.
Padek sauce is a specialty fish sauce, which is also the main ingredient that makes up the richness of most main dishes. The fish sauce is salted from fish and crabs of the Mekong River, with a characteristic sweetness of seafood. After fermenting the fish, the fish sauce is mixed with ginger, chili and some other spices.
"Xum" is the most amazing dish among Laotian dishes. "Xum" is the most obvious expression of a blend of different flavors. The dish is mixed between vegetables: tomato, papaya, green eggplant, red pepper, herbs, ginger, toad, mango... mixed with the spicy, salty taste of Padek's fish sauce. Xom is often eaten with sticky rice, so it is often referred to as "sticky rice". Sticky rice is also made from Lao sticky rice type 1, flexible and fragrant.
Outstanding dishes
Laap (Larb)
Laap is made from minced meat and then eaten with fish sauce, lemon, chili, herbs, and hearing (the name of a spice). This is considered a lucky dish and Lao people often bring it to each other during holiday
Khao Piak Sen
As a Lao noodle soup, many international tourists liken it as a "great New Year's meal". Khao Piak Sen can be had on any street corner because of its popularity with locals. The dish has thick and chewy rice noodles, and the broth is filled with chicken and pork.
Or Lam
Or Lam (spicy stew), originated from the ancient capital of Luang Prabang. Main ingredients are eggplant, beans, lemongrass, wild mushrooms, basil, chili, herbs, and Mai Sakaan. Mai Sakaan is a locally grown spicy plant. Diners often chew the tree and then discard the pulp just to get the spicy taste. In addition, this dish can also be cooked with beef, chicken ... and served with sticky rice.
Tam mak hoong
Quite similar to Son Tam of Thai cuisine, Tam Mak Hoong, also known as papaya salad, with a blend of spicy, sour, salty, sweet... Lao people are often flexible to replace papaya with other ingredients, green banana, mango. Sliced or thinly sliced papaya mixed with spices, peppers, tomatoes, onions, lemons, salt, sugar and fish sauce is an attractive finished dish. To make it more delicious, many people also mix it with seafood.
Khao Soi
Khao soi is a soup made with large noodles, minced pork, chili, tomatoes, fermented soybeans, garlic, and shallots. Then add the fat, scallions, bean sprouts and coriander. Many other variations of the dish can be found in many restaurants in Laos.
Khao Jee Pa-Ta
The seller cuts the bread lengthwise, then spreads it on a thick layer of pate, then adds grilled sausage, scallions, carrots, cucumbers, pickled radish and sauerkraut, and then drizzles on the sauce. In general, this dish is quite similar to Vietnamese bread, except that the filling has only traditional ingredients.
Sai Oo-ah (Sai Ua)
Sai Oo-ah is fried/grilled sausage like in Vietnamese cuisine. The dish has a salty, sweet, and greasy taste, the tough shell brings a sense of enjoyment when eating. This dish is best when eaten hot and enjoyed while sipping Lao beer.
Khao Niaw
Laotians very often cook sticky rice on important religious anniversaries. People consume a lot of sticky rice in a year and they believe they eat more sticky rice than any other country. Nicknamed "luk khao niaow", "children of sticky rice", given to themselves by the Lao people, shows the importance of sticky rice in cuisine.
Sien Savanh
Lao style dried beef is often eaten when drinking beer, is a perfect snack. Sien Savanh made from beef (or buffalo meat). Meat marinated with a mixture of fish sauce, garlic, ginger, sugar, sesame seeds, salt and pepper and then dried in the sun until dry. After that, the dried meat is cooked on the fire, so that the meat has a smoky flavor for more flavor. Braised beef served with sticky rice or dipped with jaew maak len sauce (a sauce made from tomatoes and chili peppers).
Typical Lao cuisine always attracts all visitors who are passionate about spicy flavors. It will not be perfect if a trip to Laos lacks the above dishes. Check Laos tour packages and explore Laos food tour!