Nghinh Phong Phu Yen Tower - Discover Phu Yen
Nghinh Phong Phu Yen Tower allows visitors to experience panoramic views and enjoy an alluring masterpiece of art when discovering the Tuy Hoa city.
Nghinh Phong Phu Yen Tower is a new Phu Yen tourism icon that is "floating like alcohol" attracting many tourists. Come visit and climb on the tower, you can also admire the beauty of Ganh Da Dia, Mui Dien ... creating an unforgettable experience. Explore this architectural work with Threeland Travel in detail in the latest article.
1. The design of Nghinh Phong Phu Yen tower is very unique
It can be said that Nghinh Phong tower, ward 9 Tuy Hoa Phu Yen has become a new check-in address in this city. Inspired by the scenic Ganh Da Dia and the legend of "wrapping hundreds of eggs", the tower has a very impressive architecture and deep meaning.
Accordingly, this work is divided into two parts, with one side of the tower representing Lac Long Quan with a 35m high column, the rest representing Au Co with a 30m high column. At the same time, under the two parts of the tower are 50 blocks that have been stacked, recounting the legend that Au Co's 50 children went into the sea and 50 followed their father to the mountains.
Not only that, Nghinh Phong tower is also inspired by the famous place Ganh Da Dia, with undulating stone blocks shaping the tower.
When night falls, the tower is lit by 3D mapping lighting technology, Bobine Tesia and high intensity laser lights. That creates a vibrant, colorful light show area, creating a special sense of vibrancy.
2. Nghinh Phong Tower has a special meaning
Nghinh Phong Tower in Phu Yen not only captivates visitors by its exquisite architectural beauty, but is also loved by the content of special cultural values ​​of the Vietnamese people. This work was inspired by the legend of the Dragon and the Fairy - a very precious traditional story in the national culture.
The meaning of Nghinh Phong Phu Yen tower with each architectural detail contains a profound message, accurately reflecting the precious legend that the tower was inspired by. From the 35m high column representing Lac Long Quan, representing strength and resilience, to the 30m high column representing Au Co, expressing tenderness and love.
In particular, 50 stone blocks stacked below the tower represent the legendary story of Au Co's 50 children going into the sea and 50 people following their father to the mountains, meaning the unity and close association of the family and nation.
Nghinh Phong Tower is a unique architectural symbol, not only creating a beautiful space but also a way to celebrate and preserve the precious cultural values of the Vietnamese people.
3. The road to Nghinh Phong tower in Phu Yen is very poetic
The traffic to Nghinh Phong Phu Yen Tower on poetic roads is a great experience for visitors. This journey takes you through the stunning landscapes of the Phu Yen countryside. You will pass through immense rice fields, filled with green color, creating a charming and peaceful picture.
The road to Nghinh Phong Phu Yen Tower also takes you through winding rural roads, connecting between the smooth white sand areas of Phu Yen beach. The sound of the waves crashing on the shore and the chill of the sea breeze coming in, creating a very poetic space.
Along the way, you will feel the peace when immersing yourself in the beautiful natural landscape. The bright yellow sunlight illuminates the path, creating a warm and energetic atmosphere. This makes the journey to Nghinh Phong Tower an emotional adventure.
4. Nghinh Phong Tower at night appears shimmering and fanciful
When night falls, Nghinh Phong Phu Yen tower becomes shimmering and fanciful, creating a truly amazing scene. High-tech lighting, coupled with 3D mapping technology and intense lasers, turn the area into a fantastic light show.
From afar, the undulating stone blocks inspired by the famous Da Dia Ganh of Phu Yen suddenly become bright highlights, creating a "fairy" image that attracts all eyes. Light and dark colors intertwine, running through the unique lines and shapes of the tower, creating a vivid and colorful light show.
Nghinh Phong Tower at night in Phu Yen is not only a beautiful architecture, but also a unique work of light art. The delicate combination of light and tower structure creates a dreamy space, feeling like stepping into a wonderland.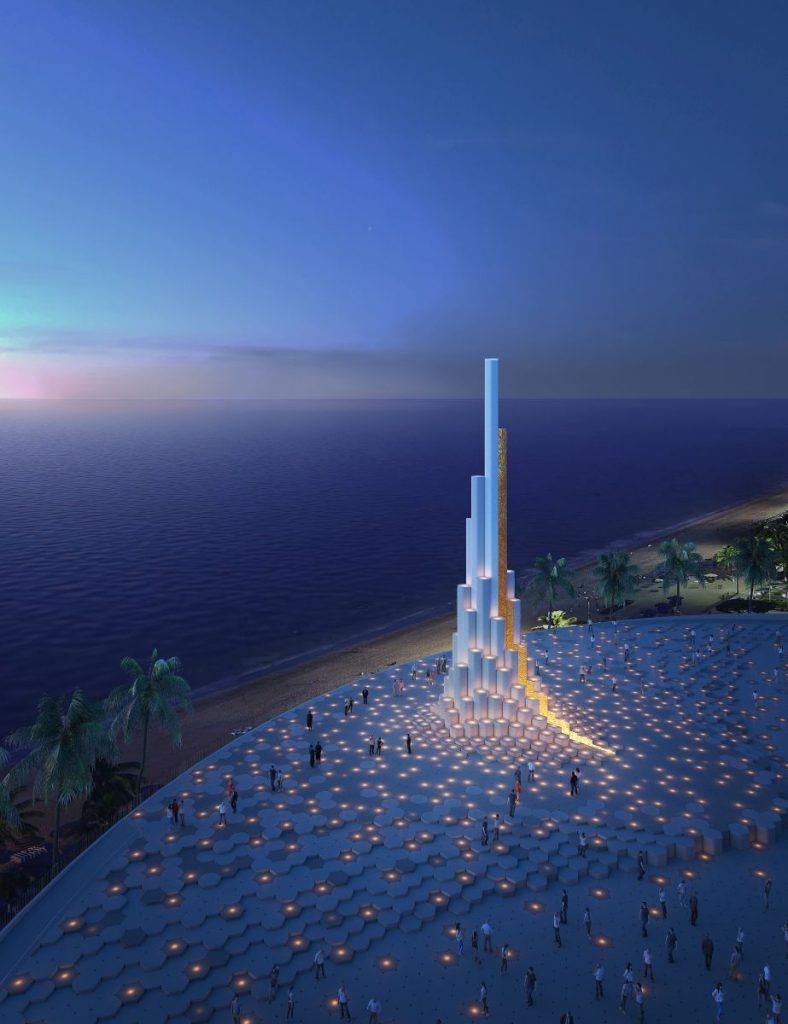 5. New and artistic check-in coordinates
Located in a unique location, Nghinh Phong Phu Yen Tower offers visitors a new and artistic check-in point. With this special coordinates, the tower creates a beautiful scene, opening the opportunity for unique and artistic photos.
In this place you can explore and express your creativity. The unique coordinates of Nghinh Phong tower create a beautiful space, you can enjoy exploring unique shooting angles, creating beautiful photos, expressing your artistry.
6. "Natural music station"
A special unique feature at Nghinh Phong Phu Yen Tower is that the distance between the two towers is designed to be extremely small, just enough for two people to stand on it. This creates a wonderful acoustic phenomenon when the sea breeze blows through, forming a unique symphony of the sea.
When you step foot here, you not only admire the beautiful beauty but also experience the special echoes of the sea. The sound of crashing waves and the sound of the wind whispering together create an enchanting natural music. Intoxicating and unforgettable emotions will surely go deep into your heart in the journey to discover the land of yellow flowers on green grass.
7. Belonging to Nghinh Phong Square - where many special events take place
Nghinh Phong Square, where Nghinh Phong Phu Yen Tower is located, is not only a great tourist destination, but also the center of many unique events.
Here, every year, many cultural activities, arts and festivals take place, attracting a large number of tourists. From vibrant art performances to traditional events and exhibitions, Nghinh Phong Square is home to activities that bring unique and impressive experiences such as the opening ceremony of the 31st SEA Games, The 13th National Architecture Student Festival, meetings to celebrate World Oceans Day, Vietnam Sea and Islands Week in 2022...
All these special events prove that Nghinh Phong Square is a proud and outstanding work of architectural art of this land.
When coming to Phu Yen, you can combine visiting Nha Trang city, only about 120km to the south. Nha Trang is not only famous for its beautiful beach, but also an attractive destination with entertainment areas, restaurants, and unique attractions such as Ponagar Tower, Nha Trang Institute of Oceanography, Long Son Pagoda…
From unique architecture and legendary meaning, to the delicate combination between art and nature, Nghinh Phong Phu Yen tower has proven to play an important role in attracting tourists to Tuy Hoa city. Not only a new icon, this is also an impressive work of art, providing visitors with wonderful experiences and memorable memories. Don't forget to discover Phu Yen when you have Vietnam tours with us !