Myanmar food tour - Specialties must try
Tea leaf salad, Shan rice or curry are "irresistible" delicious dishes that visitors cannot miss.
Myanmar cuisine is a blend of cultures from South and Southeast Asian countries, along with unique local ingredients.
Tea leaf salad
Myanmar is one of the few countries that eat tea leaves. Tea leaf salad (lephet) is a favorite of the people of this country and is often served at celebrations or special occasions. This dish can be used for a snack or served with rice as a main meal. However, Myanmar people warn that tea leaf salad can cause insomnia if tourists eat too much.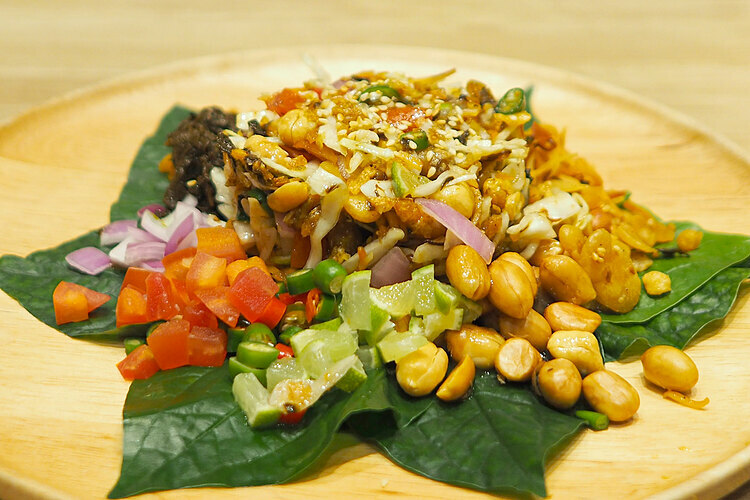 Read more: Get lost in the religious maze at Kakku Temple Myanmar
Shan people's rice
Rice of the Shan people (a tribe in Myanmar) is known by another name, nga htamin (fish rice). Rice is cooked with golden turmeric powder, eaten with fish and garlic oil. With spices such as garlic, chili, pepper, Shan style rice is a favorite dish for those who like spicy food.
Myanmar curry
Traveling to Myanmar by visiting traditional restaurants, visitors will not only have a full meal but also have interesting culinary experiences, such as enjoying Myanmar curry.
As the name of the dish suggests, curry is the main ingredient, but visitors can choose to eat it with pork, beef, lamb or seafood. At curry shops for Muslims, Myanmar curry will be eaten with vegetables, lentils...
Besides curry, visitors will be served rice, tea leaf salad, stir-fried vegetables, soup and a large tray of boiled fresh vegetables with many different dipping sauces. An interesting thing about enjoying a serving of Myanmar curry is that you will receive a traditional Burmese dessert - soaked tea leaves and dried nuts.
Myanmar milk tea
When mentioning milk tea, everyone remembers different names such as Taiwanese milk tea, Thai tea... However, many people do not know that in Myanmar there is also a special milk tea unique to this country with the extremely lovely name of pulled milk tea. This is a street drink that you can find on any street or corner of Myanmar. This is a typical drink, fragrant tea flavor combined with the gentle sweetness of milk in a harmonious way and has become a specialty not to be missed when traveling to Myanmar.
Fried foods
Myanmar people have a passion for greasy dishes, so visitors can easily find fried cakes on the streets of Myanmar such as fried spring rolls, salty donuts, fried bread...
The recommended dish to try is buthi kyaw (deep-fried zucchini). The crispy, hot cakes will be served with a special sweet and sour tamarind sauce.
Shan style tofu noodles
One of the more unusual dishes in Myanmar is hto-hpu nwe, which literally means "warm tofu". Originating from the Shan ethnic people of northern Myanmar, the dish does not actually include tofu but is a thick porridge made from mung bean flour.
The bean porridge layer is covered with noodles, served with chicken or pork, a little chili oil, sweet and sour vegetables and broth. It is a strange combination but worthy for tourists traveling to Myanmar to try.
Mohinga fish noodle soup
Considered by many people to be a typical dish of Myanmar people. The noodles have a rich broth made from fish and herbs. To make the dish more flavorful, visitors can squeeze lemon and add dried chili. As a favorite breakfast dish of the people here, fish noodle soup is also sold all day as a popular snack at street vendors.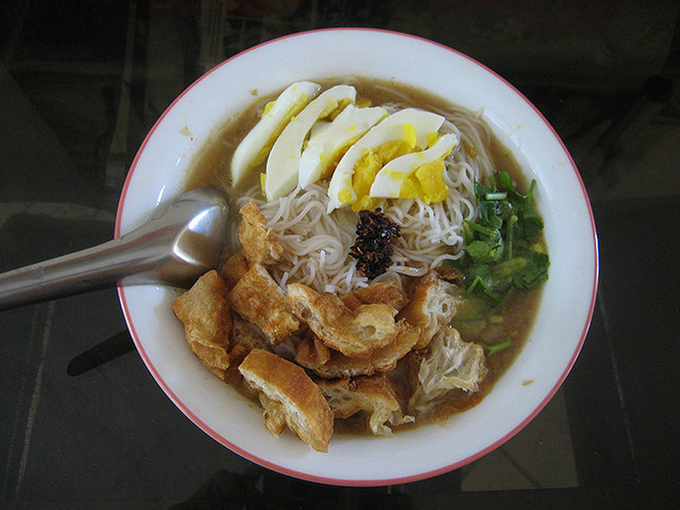 If you want to travel to Myanmar in 2023, we hope that this information was informative and useful. You will surely have a fantastic time there and learn a lot about Myanmar history and culture via the cuisine. If you want a trustworthy and knowledgeable travel agency to help you organize your trip to Myanmar, pick Threeland Travel. We can arrange for everything, including purchasing tickets and making hotel and travel arrangements, based on your preferences and financial limitations. Find out more about our fantastic deals and packages by visiting our website or giving us a call right away. The opportunity to travelling to Myanmar with Threeland Travel is one you shouldn't pass up!