Hue royal tea: The ethereal drink of the ancient capital
If in the past, Hue royal tea could only be enjoyed by kings, lords, generals, or elegant intellectuals, today it has become a familiar drink for everyone.
Traveling to the Central region is an opportunity for you to learn about the culture, cuisine and people here. And it would be remiss if you have traveled to Hue, but you have not tried Hue royal tea - a symbol of the cultural beauty and people of Hue. Let's learn about this special drink in the article below!
1. What is special about Hue royal tea?
1.1 Taste of Hue royal tea
Made from different herbs, Hue royal tea has a very different taste. It is a combination of the sweet taste of licorice, jujube, sweet grass, the bitter taste of lotus heart and bitter melon, faintly the taste of the bud, goji berry, the cool taste of jasmine, artichoke… When you drink it, you will feel the natural sweetness, ethereal taste, not bitter like pure tea. The perfect combination of herbs has created a unique Hue specialty drink that only this place has.
1.2 Ingredients and ingredients of royal tea
Hue royal tea is a delicious and nutritious drink that is refined from 16 different herbs including: stevia, artichoke, chrysanthemum flower, big apple, persimmon, ginseng, anise, Jasmine, Northern Licorice, Lotus Heart, Bitter Melon, goji berries,.... In addition, in royal tea, there are also some rare heirloom herbs.
These ingredients are carefully selected from all over the North, Central and South regions, then bring the gold star, processed according to their own recipe to make the typical flavor of Hue royal tea.
Also, because the ingredients are derived from nature, drinking Hue royal tea brings a lot of health benefits. Some of the prominent effects include:
Stabilize blood pressure, blood circulation

Lower cholesterol, burn fat

White, pink, smooth skin

Cool the liver, cool down, clear the body heat

Reduce fatigue and stress

Helps to have a good and deep sleep
1.3 What kind of Hue royal tea is delicious?
Hue royal tea has many types, each with its own distinct flavor. Depending on your preferences and needs, you can refer to Hue royal teas - delicious dishes in Hue that should not be missed, below to buy to enjoy or as gifts are also extremely meaningful. .
Hue royal tea bag filter is a type of tea that is available in filter bags, just put in a cup of warm water to have a delicious cup of tea. This tea is suitable for office workers, people who often travel, work far away, or are busy who do not have much time to make tea.

Quy Phi Tea is a tea exclusively for women, bringing many good effects to the skin, slowing down the aging process, preventing acne, sleeping well, losing weight and keeping fit...

Minh Mang tea is Hue royal herbal tea with 18 herbal flavors, refined exclusively for men. Tea has the effect of helping to increase vitality, tonic kidney, yang, detoxify, prevent gout, fatty liver ...

Mau Hau tea, as the name suggests, is a royal tea for the elderly. Tea includes herbs that help improve symptoms of insomnia, high blood pressure, poor eating, headaches, joint pain ...

Hue royal tea G8, G9, G10 is a way to distinguish in packaging and different ingredients in each type of tea. In particular, G8 royal tea has a mild sweet taste, refined from 26 herbs. Hue G9 royal tea also includes the same ingredients as G8 tea, but with some more precious herbs, so it has a rich flavor suitable for the elderly. G10 royal tea still includes the same ingredients as the above two types of tea, but is divided into small packages, and vacuum sealed for preservation.
2. Enjoy Hue royal tea - The cultural beauty of the ancient capital
A cup of Hue royal tea is delicious not only because of the ingredients, but also from the way you prepare and enjoy the tea. Like other teas, Hue royal tea is easy to brew and drink. You can enjoy royal tea in two ways below:
If you like to drink it cold, you can boil the tea, then let it cool for about 30 minutes, then add a little ice to have a cool drink perfect for summer.
On the contrary, if you want to drink it hot, put the tea in the kettle, cover the tea with boiling water and then pour the water over the tea. To add more flavor to the tea, you can add a few jujubes. Wait for about 15 minutes to steep the tea, then you can pour the tea into a cup and enjoy. There's nothing better than enjoying a cup of tea with a few cakes.
3. Where to buy Hue royal tea?
3.1 Vu Di Tea House
Address: Thien An tourist area, Cu Chanh village, Thuy Bang commune, Huong Thuy town, Thua Thien Hue province
Tra Dinh Vu Di is one of the favorite places to enjoy tea of Hue people. Coming here, you will enjoy countless delicious teas in an Asian-Eastern architectural space, hidden under the green pine forest. The space of enjoying dream tea with the melodious Hue royal music will surely make you fall in love and forget the way home.
3.2 Hue Imperial Tea Thong Huong
Address: 56 Mai Thuc Loan, Hue city, Thua Thien Hue province
Thong Huong Royal Tea is a prestigious and famous place to buy and enjoy tea in Hue city that will surely make you satisfied. Here is famous for premium teas such as Minh Mang tea, Mau Hau tea, Quy Phi tea with quite cheap prices but the quality is not inferior to other shops. Besides, the spacious and cozy space will bring you the best tea-eating experience.
3.3 Hue royal tea - laque.vn
Address: 7/49 Han Mac Tu, Hue city, Thua Thien Hue province
Laque.vn is a brand specializing in providing prestigious and quality Hue specialties to everyone. In particular, the royal tea of La Que is famous for its diversity in types and designs to meet all the needs of diners. Moreover, the products are of clear origin, so you can use it with complete peace of mind. If you are far away, but still want to enjoy Hue royal tea specialties, laque.vn will be the address for you.
3.4 Dr Tea
Address: No. 2/98 Nguyen Hue Street, Hue City
Dr.Tea is a famous longtime tea distribution address with many agents and shops throughout the North, Central and South regions. All teas here are guaranteed for quality, safety as well as clear origin. Dr.Tea is a reputable, safe and affordable tea buying address that you should not ignore.
3.5 Hue Duc Phuong royal tea
Address: No. 24, Nguyen Hue Street, Vinh Ninh Ward, Hue City, Thua Thien Hue Province
After 15 years of establishment and development, Hue Duc Phuong royal tea has become a brand trusted by consumers, a familiar gift brought back after each Hue trip by many tourists. Royal tea here is diverse in types, designs, and prices are clearly public. So you can easily choose the right tea for your needs.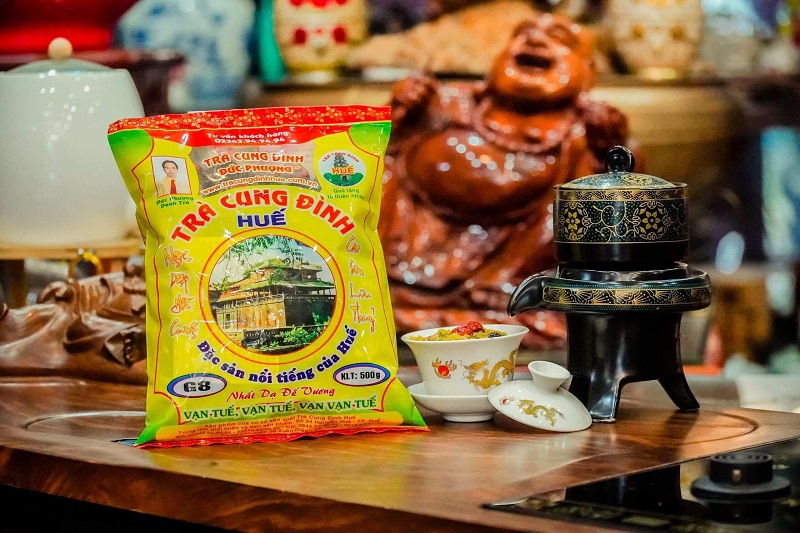 3.6 Tinh Tam Food
Address: 240/23/12 Hiep Thanh 13 Street, Hiep Thanh Ward, District 12, Ho Chi Minh City
With long-term experience in the field of selling Hue specialties, Tinh Tam Food's products are now distributed throughout the provinces and cities across the country. Always put customer satisfaction first, buying at Tinh Tam Food will definitely bring you great service experiences.
3.7 Hue Royal Tea – Nhat Da Emperor
Address: 24 Nguyen Hue, Vinh Ninh ward, Hue city, Thua Thien Hue province
Nhat Da Emperor is known as the first tea in the ancient capital, and is a reliable address chosen by many tourists. This is also the name of the famous tea that kings used to enjoy in the past. The advantage of Nhat Da Emperor is a variety of teas, each with different flavors and uses.
3.8 Essence of Hue – Hue cuisine
Address: No. 17 Kiet 126 Nguyen Trai, Hue city, Thua Thien Hue province
Referring to Hue royal tea, it would be remiss to ignore Hue Essence - Hue cuisine. This is a place specializing in wholesale and retail distribution of royal tea throughout the provinces and cities across the country. Tea here has many types with many different quantities, from 200g to 1kg, to meet all the needs of customers.
3.9 Hue Gifts Online
Address: 88 Phan Dang Luu, Dong Ba, City. Hue, Thua Thien Hue
As the name suggests, this is the address where you can find and buy any famous Hue specialties as gifts such as: Hue royal tea, Lang Co oyster sauce, filter cake... All items in Hue Gifts Online, customers can be assured of quality as well as comfortable shopping at very affordable prices.
3.10 Hue Imperial Tea
Address: 18A Kiet 100 Dang Huy Tru, Phuoc Vinh, Hue City, Thua Thien Hue Province
Another address to buy Hue royal tea for you to choose is Hue Quang Minh Royal Palace tea. This is a tea made from 26 natural herbal flavors to help treat insomnia, stabilize blood pressure, help eat well, sleep well...
4. Some notes on preserving Hue royal tea
Hue royal tea is very easily damaged if you store it incorrectly. Immediately save some tea preservation methods below to always enjoy the full taste of tea:
Hue royal tea is easily moldy if exposed to high humidity, so you should store the tea in a cool, dry place, avoiding direct sunlight.

To limit the exposure of tea to the air, use sealed containers and jars, and fill the tea as much as possible.

You can store tea in the refrigerator at a temperature of about 0 - 5 degrees Celsius.
Over hundreds of years, Hue royal tea is still one of the most delicious and scrumptious specialties of the ancient capital. Hue royal tea is not only a simple drink but also depicts the essence of Hue people and is a very meaningful gift for relatives and friends. Contact Threeland Travel for incredible Vietnam tour and discover Hue !