Hanoi Hang Dau Booth – The ancient water tower is enchantingly beautiful every season
If you have the opportunity to having Hanoi tour, visit Hang Dau Bot to admire the 25m-high ancient water tower, which is likened to the "Roman Colosseum". At the time of the change of seasons, the sesame buds next to the tower change their leaves to bright yellow, making the scene here become more poetic and romantic than ever.
1. Hang Dau Water Booth – A historical work over 130 years old
1.1 Where is Hang Dau Booth?
Hang Dau and (also known as Dau Dai, round water factory) are located at the crossroads of the old streets of Hang Than, Hang Luoc, Hang Giay, Hang Dau, Quan Thanh and Phan Dinh Phung. The project is located in a prime location, convenient for tourists to visit by various means.
To move to Hang Dau Bot, you can travel by motorbike along Phan Dinh Phung street to the crossroads and you will see a solid water tower standing in the middle of the intersection. You just need to park your car in Hang Dau Flower Garden or opposite Hang Dau Bot to be able to visit and check in easily.
If you do not have a personal vehicle, you can take a bus to save money and time. Some bus routes to Bot Hang Dau you can refer to:
Vehicles 14, 18, 22A, 23: park at 10-12 Quan Thanh.

Vehicles 14, 22A and 41: park at 3A Phan Dinh Phung.

Car 18, car 23: park at 4 Ly Nam De.

Cars 01, 18 and 23, 36: parked opposite 16 Phung Hung.
Built during the French colonial period, Hang Dau Bot has a classic and sophisticated European architecture. The water tower combines with the rows of green trees and the typical beauty of the old streets. All create an extremely luxurious and ancient scene that is hard to find anywhere else.
1.2 History and function of Hang Dau Booth
The history of Hanoi's Hang Dau Booth can be traced back to 1894, this period was extremely difficult when the epidemic raged. People have to get daily water from dug wells or ponds throughout Hanoi. The use of polluted water affects the health of the people as well as thousands of French soldiers.
In 1896, Mr. Paul Bert - Governor of Annam and Tonkin died due to an epidemic. This event has promoted the completion of a clean water system according to European standards instead of using polluted old water sources. A series of water tower projects and electricity and water works were born, Hang Dau Bot is considered the first work marking the change of Hanoi capital.
The legend of Hang Dau Bot is also associated with many anecdotes in the early 20th century. Over more than 100 years of history, this place is extremely loved by Hanoi people.
Due to its solid structure like a blockhouse, people confused and called it Hang Dau Bot, but the French colonialists called it Dai Dau. This ancient water tower located at the beginning of the city is very convenient to perform its function of pouring water into the Thang Long camp.
The tower also regularly leads water to all the streets of Hanoi. Because inside, Hang Dau Booth is equipped with a giant water tank with a capacity of up to 1,250m3 and a system of water pipes up and down with large brake valves. However, the water flow to the Vietnamese area is always limited, and the French area has the water valve always open.
2. What to explore at Hang Dau Bot Hanoi?
What to eat at Hang Dau Bot in Hanoi, in which season is the best time to take pictures to check in? Let's explore with Threeland Travel right here.
2.1 Admire the unique architecture of Hang Dau Booth
Through many years of ups and downs of history, many wars passed and were threatened with demolition for business purposes. To this day, Bot Hang Dau still retains the characteristic ancient architecture of the old period and is considered as a vestige of the old Ha Thanh land.
From a distance, the ancient water tower looks extremely solid when it is built into a circular cylinder, about 19m in diameter and more than 20m in wall height, if including the tower's roof, it is 25m. The roof of the conical tower is covered with corrugated iron and at the top is a lightning rod.
The building consists of three floors with a total of 54 small doorways shaped like pearl holes. However, 17 doorways on the first floor have been closed to prevent littering. The total capacity of the building is 2,500m3, which is extremely tall.
Like the French colonial architecture in Hanoi, this place has a bold Western beauty. The arched arches, the stratified frills connecting into a silk strip around the tower have increased the aesthetic, blurring the heavy feeling created by stone and cement.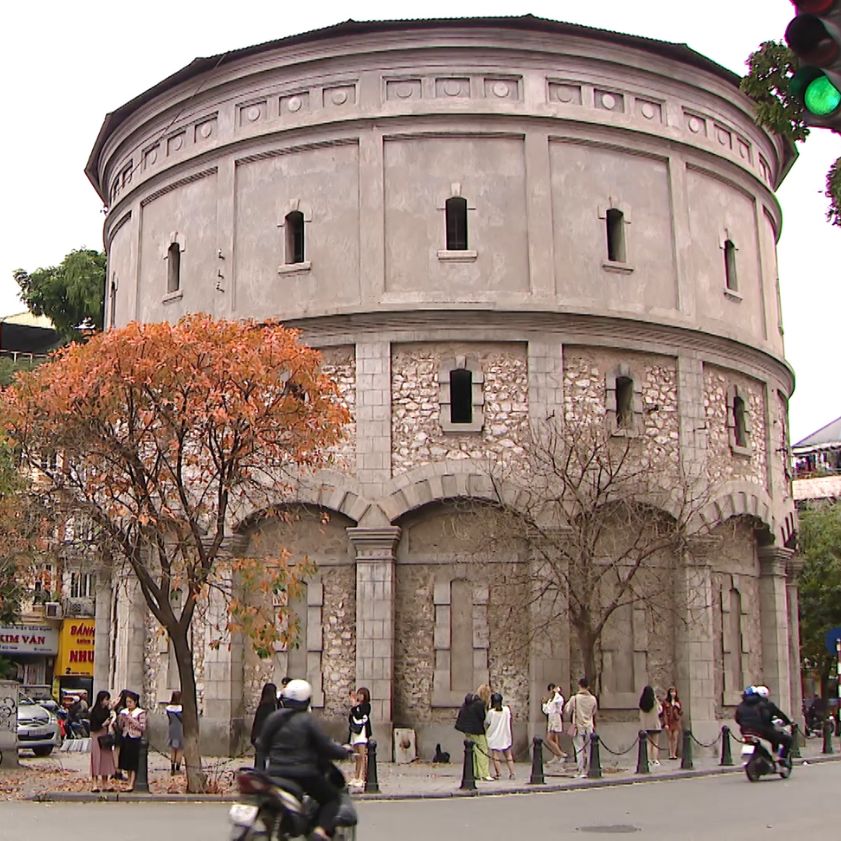 2.3 Experience the food in the area around Bot Hang Dau
In addition to sightseeing and photography activities, you can experience the food around Hang Dau Bot. Just a 5-minute walk to Dong Xuan market is also a tourist destination not to be missed.
The alley is only 200m long but filled with restaurants with a variety of dishes. In particular, the price here is very cheap, less than 100,000 VND, you can enjoy delicious Hanoi dishes in the right way.
Hang Dau Booth has always been an inseparable classic beauty of Hanoi. After many difficult years, this place still retains the cultural and historical values that it carries. Contact Threeland Travel to visit this beautiful place with tour: the best of Vietnam