Visit the temple of female warriors in Banteay Srei Cambodia
Cambodia is known as the kingdom of temples, and one of the temples that is an impressive tourist destination in this country is Banteay Srei temple, known as the temple of female warriors. Let's take Holidays to Cambodia to explore this Banteay Srei.
Bateay Srei Temple's information
This temple was originally built to worship two gods, Hindu and Shiva. With a much smaller scale, but thanks to its architectural lines and overall construction, Banteay Srei is known as a miniature version of Angkor Wat. This temple is located quite far from the center of Siem Reap, up to 35km and is located in the middle of the jungle like a hidden temple hidden deep in the jungle. Another special thing about Banteay Srei Temple lies in the construction materials, so this project is completely pink sandstone, this is also the project that uses the largest volume of pink sandstone in Cambodia.
Every year, Banteay Srei Temple attracts millions of tourists, not only because it resembles Angkor Wat, but also because it is considered the temple with the most sophisticated architecture in Cambodia. Ingenious and unique sculptural lines.
Read more: Explore Cambodia - Virachey National Park
History of Banteay Srei Temple
This temple was built a long time ago, in the 10th century under the reign of King Jayavarman 5, which means it has existed for nearly 1,000 years. When it was first built, this temple worshiped the Hindu god Shiva. But later, due to its remote geographical location and the majesty and greatness of the Angkor relic complex, this temple fell into oblivion in the deep forest. It was not until 1914 that Banteay Srei Temple was discovered by a Frenchman and since then, it has been a quite famous tourist destination in Cambodia.
Location and architecture
This temple is located in the Angkor area in Siem Reap province, however it is located quite far from the temples in the Angkor relic cluster. Specifically, this place is about 35km from Siem Reap city center and 25km from the temple cluster of the ancient capital Yassodharapura. On the other hand, this temple is located quite close to the Mekong River flowing through Siem Riep, some distance from the river.
Architecturally, the temple consists of three temples, the northern temple worshiping the god Vishnu, the central temple and the southern temple worshiping the god Shiva. Banteay Srei is proud to rank first in sophistication among all temple complexes in Cambodia, even better than Angkor Wat and Angkor Thom. The temple is built from small sandstone blocks with walls carved with beautiful artistic paintings. The meticulousness and sophistication in each line of the painting makes many visitors admire it. Statues of Buddha, gods, animals, etc. are also meticulously sculpted to create vividness.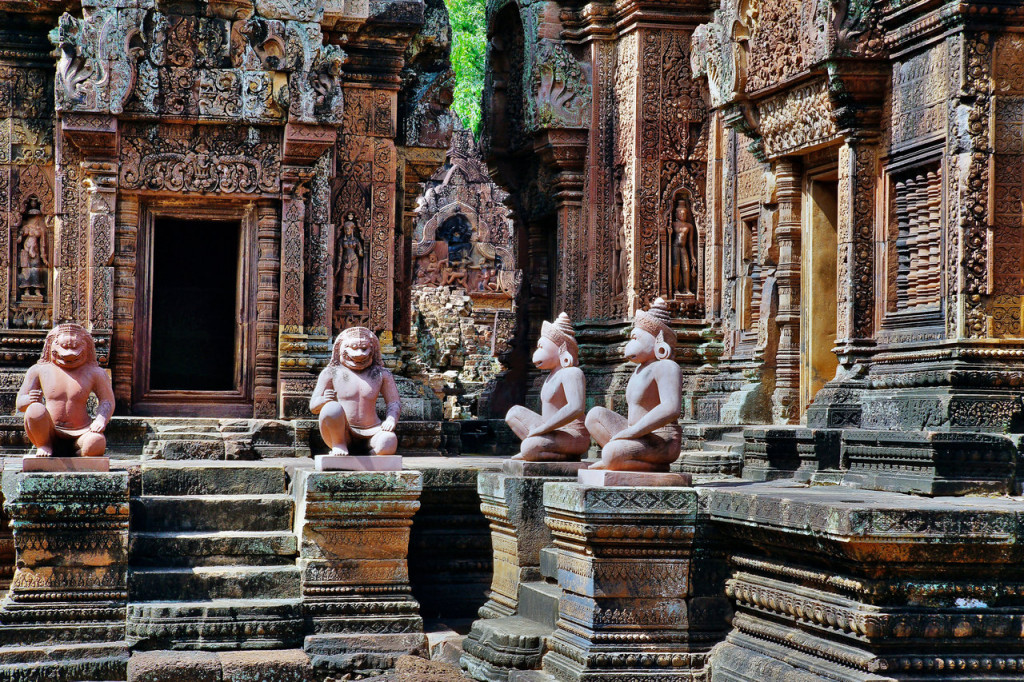 Things to keep in mind when traveling to Banteay Srei temple
When traveling to Cambodia to explore Banteay Srei temple, you must definitely pay attention to the following things to have the most perfect trip.
Because this temple is also located in the Angkor relic complex, the most reasonable itinerary is to combine visiting Banteay Srei temple with Angkor Wat or Angkor Thom, etc. Thus, you can rent a tuk tuk or taxi by day. To save money than calling a car at each stop.
The second thing is the right time to visit the temple. Most people often visit the temple in the mid-morning or afternoon to avoid the sun and have time to prepare. However, you should come to this temple early in the morning because only then will you be able to see all the beauty of every corner of the temple. Besides, early morning is certainly not the time when there are too many tourists visiting, so you will avoid the crowd.
Another very important note you need to remember when traveling to Banteay Srei is appropriate clothing when visiting. Because the temple is a sacred place, you need to dress politely and discreetly to show respect for Cambodian culture and beliefs. Besides, if your dress is too offensive, revealing, etc. you may be asked by the temple security to leave the temple grounds.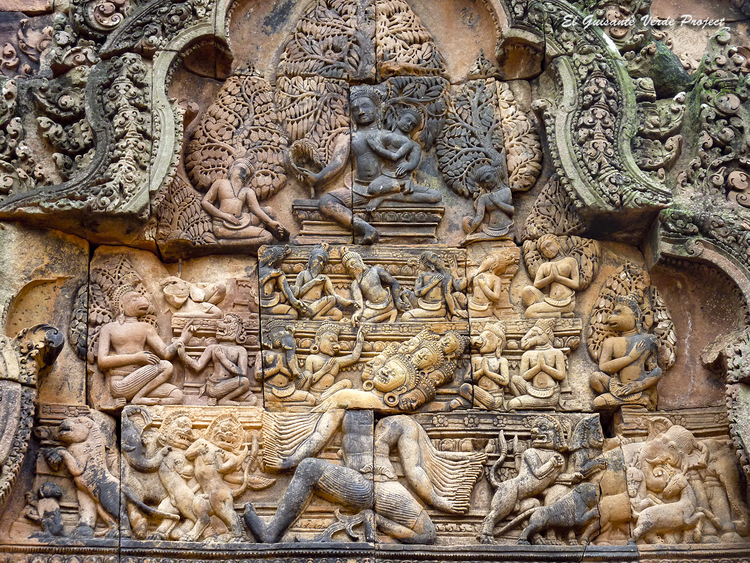 This piece about exploring Cambodia was written in the hopes that it would be interesting to you and helpful for your travel plans in 2023. Let Threeland Travel help you with the planning of your vacations in Cambodia. We can arrange your schedule to suit your needs and financial constraints, and we can take care of everything from ticket purchases to lodging and transportation. To find out more about our special offers and packages, please visit our website or get in touch with us immediately. Don't miss this opportunity to go with Threeland go and see Cambodia!