Explore Cambodia - Virachey National Park

Information about Virachey National Park, Cambodia
Virachey National Park is a beautiful natural landscape located in the Northeast of Cambodia. This place stretches across two provinces, Stung Treng and Ratanakiri. The total area of the national park is 3,325 km2 with rich fauna and flora. This is also one of the Heritage sites prioritized for protection in Southeast Asia.
Located in the deepest and most isolated forest in Cambodia, Virachey National Park has many areas that have yet to be fully explored. Many wild animals, plants, mountains and waterfalls remain a mystery at this preserve. Because it is a closed ecosystem, the garden has many rare flora and fauna. The most popular landscapes here are evergreen forests, tall grasslands, bamboo forests and river valleys,... all of which have wild, majestic beauty.
Currently, Virachey is home to many rare animal species, typically: great hornbills, douc langurs, pig-tailed macaques, etc. The existence of Javan rhinos, leopards, and tigers still lacks evidence until now.
Virachey National Park was decided to establish on November 1, 1993 by the Cambodian Royal Order. It is currently under the management of the Cambodian Ministry of Environment. Although under state management, the ecosystem of this national park is seriously threatened due to illegal logging.
Read more: Discover Cambodia - The mysteries of Wat Sampov Pram
How to go to Virachey National Park ?
Virachey National Park is located about 50km from Banlung and takes 1 hour by car. All trips will depart from Banlung, where the flag office and information center are located. If you go from Siem Reap, it takes about 8 hours by car or 1 hour by flight from Siem Reap airport to Pakse airport, Phnom Penh, 381km from the national park with about 9 hours by car.
Time to visit Virachey National Park
The weather in Virachey National Park is divided into two distinct seasons. Summer has a lot of rain. Winter is dry and cool. Therefore, according to Cambodia travel experience, the best time to explore Virachey is from December to March.
Rare muntjac species discovered in Virachey National Park, Cambodia
The rare species facing high risk of extinction was first discovered in Cambodia on June 25, 2021.
AFP news agency quoted Cambodian Ministry of Environment spokesman Neth Pheaktra as sharing that the whale was recorded by a hidden camera located in Virachey National Park in April 2021.
Authorities later discovered this animal when they recorded the camera and reviewed footage spanning several months.
The scientific name is Muntiacus vuquangensis, and has been listed in the IUCN (International Union for Conservation of Nature) red list. Muntjac is classified as the 1st most endangered species in Southeast Asia.
Muntjac was first found in the forests of Laos and Vietnam in 1994.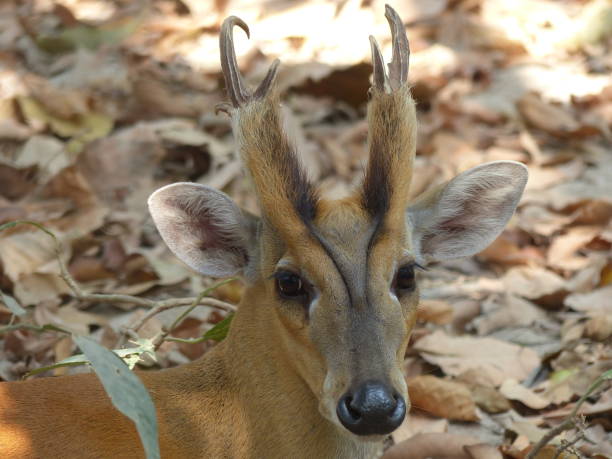 What is impressive about Virachey National Park?
When visiting Virachey National Park, you will walk under dense trees. That fresh and relaxing air seems to ease all the worries in life. The sound of birds chirping mixed with the sound of rustling leaves falling on the ground. Everyone sings in harmony to create a pleasant melody. In the national park, there are a number of ancient trees that are strictly protected to avoid deforestation.
In addition to rows of shady trees, Virachey National Park also has many friendly animals. There are also species listed as endangered that need urgent protection. Especially the giant elephants whose numbers are decreasing each year. The area that attracts the most young tourists here is the home of gibbons. Gibbon species are currently in the endangered group, so they are carefully raised by the management board to avoid hunting.
There are also several species of hornbills in Virachey, which attract many visitors of different ages. This bird species has an economic value about 3 times higher than elephant ivory, so Virachey National Park highly values the protection of this precious bird breed.
Interesting activities in Virachey National Park
Phnom Veal Thom Trek
Phnom Veal Thom Trek is an approximately 7-day trek starting from Phnom Veal Thom and ending in the Montane grasslands. This trip includes homestays in the village, camping, and hiking through wild natural areas with rangers or local guides. They will be the ones to take you to beautiful places and areas deep in the jungle. This is considered the most famous hike of Virachey National Park.
Excursions to the sacred Kalang Chhouy Mountain
The trip to conquer Kalang Chhouy Zen Mountain lasts about 3 days. There is also the activity of staying at the camping village near the Chour Preah waterfalls and rapids. There is also a fairly long walk through Virachey. This journey is relatively easy and does not take too many days. On the way, if you are lucky, you will see the great hornbill or some other animals in Virachey National Park. With a duration of 2 days and 1 night, it will take you through majestic trails and waterfalls. If you are ready to go on this trip make sure you have enough time and stamina.
O'Lapeung Trek
O'Lapeung Trek is a 3-4 day trip including staying at a homestay in the village, camping in the forest, hiking along the Ho Chi Minh trail, river cruises and return by kayak. When going, remember to wear climbing shoes to avoid slipping. This trip will give visitors a great opportunity to experience wild life. When going to the villages, don't forget to enjoy local cuisine and drink rice wine. This will be a great experience getting closer to Cambodian rural life.
Sleep overnight in the forest
To be able to discover all the hidden values here, spending the night in the forest will be an extremely interesting experience. Because there is no accommodation in the national park, trips must spend the night in tents next to campfires. However, all activities require guidance from national park rangers and local guides. Before going, visitors need to be equipped with food, water, camping equipment, etc. The feeling of being in the middle of a mysterious natural landscape and the echoing sounds of the mountains and forests will leave you with unforgettable feeling.
Virachey National Park with rare trees, animals, birds, and above all cool air deserves to be an ideal destination for tourists to visit. This promises to be a useful and interesting trip in the journey to explore Cambodia. If you're looking for a trustworthy and knowledgeable travel firm to help you organize your Cambodia tours, give Threeland Travel a call. We can take care of all the details, including making travel and lodging arrangements as well as ticket purchases, and we can adjust your itinerary to suit your requirements and financial constraints. To find out more about our special offers and packages, please visit our website or get in touch with us immediately. Don't miss the opportunity to travel with Threeland Travel.